Home | Bus routes | Operational details | Service changes | Operators & Garages | Photo gallery
---
Route 197
15 November 2012
After a number of years as London's shortest shortest double deck route – with a running time of around a quarter of an hour to cover just three miles between Norwood Junction and central Croydon, just one stop as far as the London, Brighton & South Coast Railway is concerned! – the 197 has now gained a some dignity once again with a lengthy extension to Peckham.
Contract renewal in 2012 means that the route is now offically operated by DW class Pulsar Geminis transferred into Croydon garage following loss of route 19. Croydon already has a substantial allocation of the type and they are mixed together. DW18 (LJ53 NHT) is actually part of the indigenous allocation and was fresh from repaint from Arriva "cow-horns" livery when photographed at East Croydon on 9 October 2008, long before DWs became the scheduled type.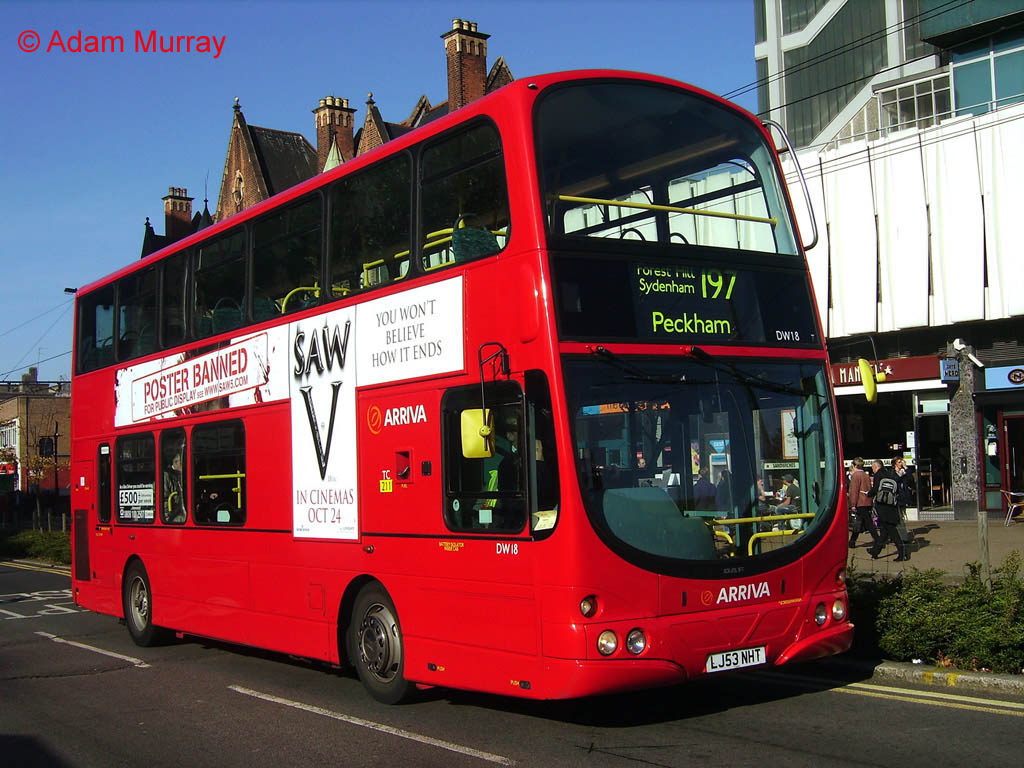 Photo © Adam Murray.
Croydon garage also has a number of T-class Enviro400 bodied Tridents, officially for route 466, and these can often be seen on the 197, especially on Sundays. The class is represented by T63 (LJ08 CXT) passing along Katharine Street in Croydon town centre on Thursday 12 March 2009.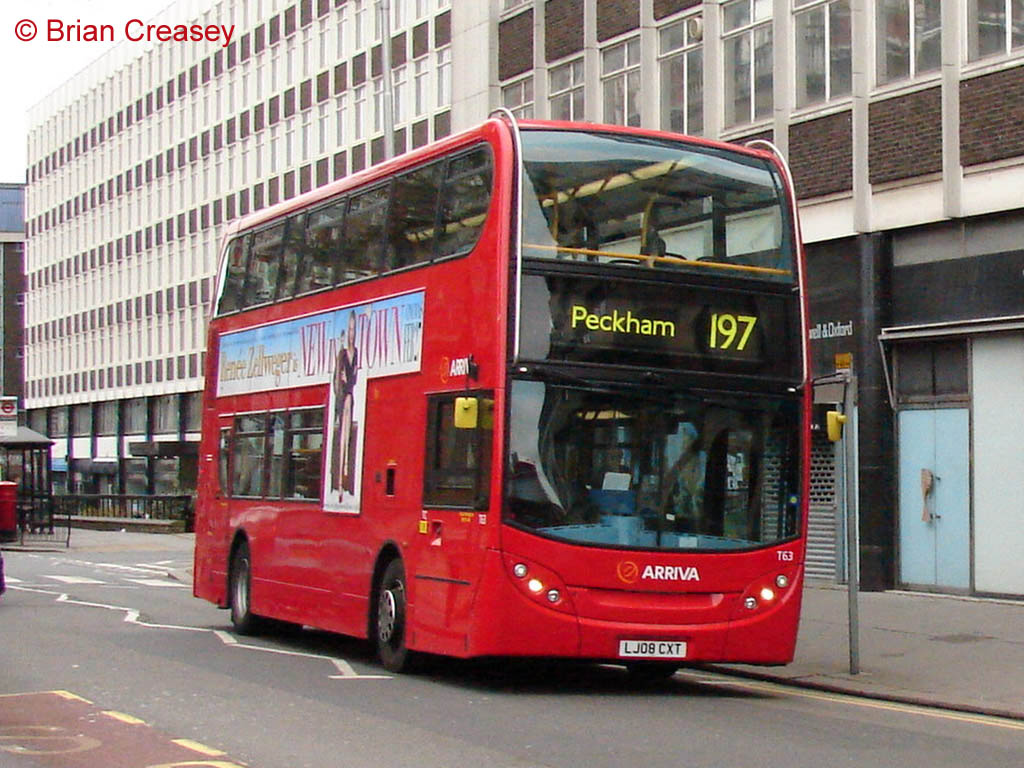 Photo © Brian Creasey.
Prior to arrival of the DWs the 197 was operated by DLA class, which have a similar chassis to the DWs but with Alexander ALX400 bodywork. A few of these linger on for the time being, so I have taken the opportunity to include this attractive photo of DLA188 (W388 VGJ) passing Woodside Green on 3 June 2011.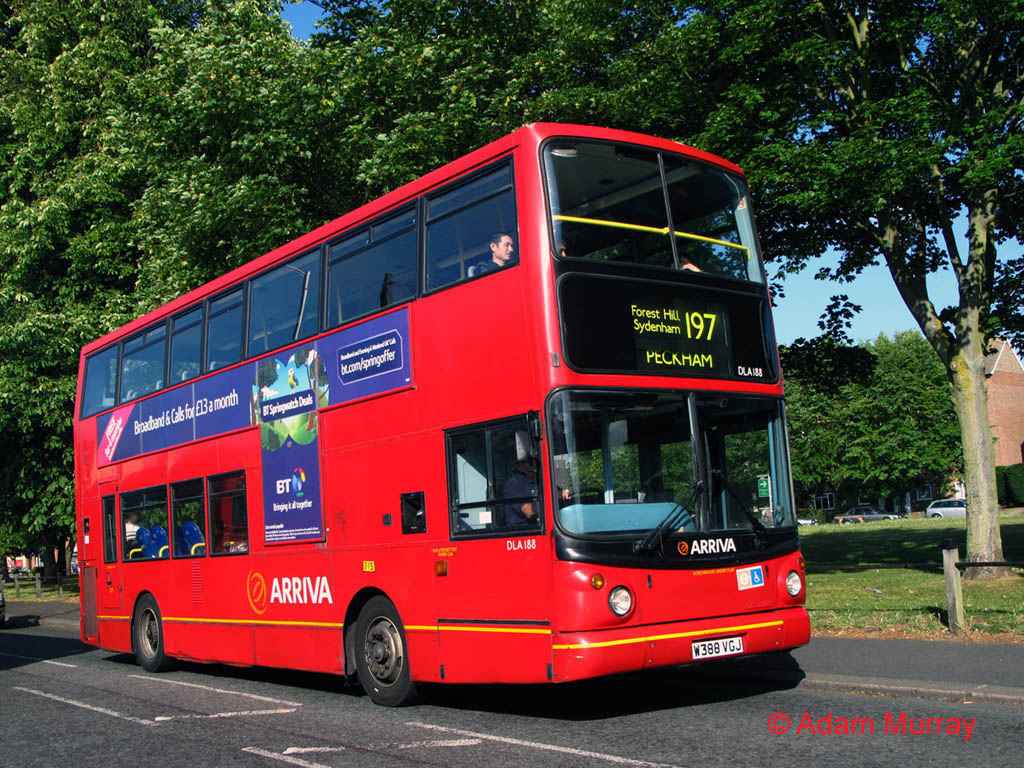 Photo © Adam Murray.

The 197 is an old route, and was rather pointlessly cut in two pieces back in 1987. The southern leg to Purley, Whyteleafe and Caterham became the 197A with a short extension from the Katharine Street split point to West Croydon, although the Sunday service continued to operate through from Norwood Junction to Caterham with the number 197B for five years. At that time (1992), the 197A was single decked, renumbered 407 and extended to Sutton to replace the 403, and both the 197 and 407 ran daily from then on.

The opening of Croydon Tramlink in 2000 saw much of the route's patronage taken away, with nearby stops at Woodside, Blackhorse Road and Addiscombe. Patronage was also lost to an even greater extent on route 312 via Addiscombe, which previously provided the service from Croydon to Peckham via Penge and Forest Hill. An economy measure was therefore achieved upon contract renewal on 3 September 2005 by switching the Norwood Junction to Peckham section of the 312, which is far busier than the rest of the route, to the 197, allowing the rest of the 312 to be single decked and providing a quicker through journey into Croydon. The only downside is the loss of a direct northwards connection from the Addiscombe area.

Navigation

See also routes 407, 403, 312

Photo Gallery | Bus route list | Operational details | Service changes | Operators & Garages