Home | Bus routes | Operational details | Service changes | Operators & Garages | Photo gallery
---
Route 89
2 April 2013
The 89 is one of those routes that has changed beyond recognition in its lifetime. My earliest record has it running from Plumstead Common (The Slade) to Bromley Common (Chatterton Arms) via Woolwich, Blackheath and Lewisham. Operation was from Bromley (TB) garage. There was actually then a break in operation between 1936 and 1937, the route being replaced south of Catford by a short-lived extension of the 137 and north of Catford by new route 154 (quickly absorbed into the 54).
However the 89 was re-started from September 1937 again running from Bromley Common to Lewisham and Blackheath, but this time heading off to Welling (Guy, Earl of Warwick) replacing part of route 21A. The section south of Lewisham was deemed superflous and, with wartime fuel pressures, was withdrawn without replacement in 1940.
In 1963 the route gained a lengthy extension from Welling to Bexleyheath, Bexley, and Blackfen to Eltham (Well Hall), replacing the short-lived 195 route, which had itself only recently replaced the Bexley leg of route 132, which had previously operated as a circular service. This gave the route a very odd shape, doubling back on itself and running parallel in the opposite direction for several miles! This arrangement lasted until April 1978, when the route was converted to one-person operation using new Daimler Fleetlines and generally diverted to Slade Green replacing routes 122 and 132 (a few journeys still ran to Bexley until the 1990s). At the sime time, the route was revised to terminate in Lewisham Bus Station instead of Rennell Street.
Other than changes to vehicle types there is no more to report. These days the route is operated by Bexleyheath garage using Enviro400s, and E244 (YX61 DPY) climbs the eastern flank of Shooters Hill on 28 January 2012 when brand new for a new contract. Sadly Go-Ahead London has had to succumb to TfL all over red, but held out to the last possible moment before doing so!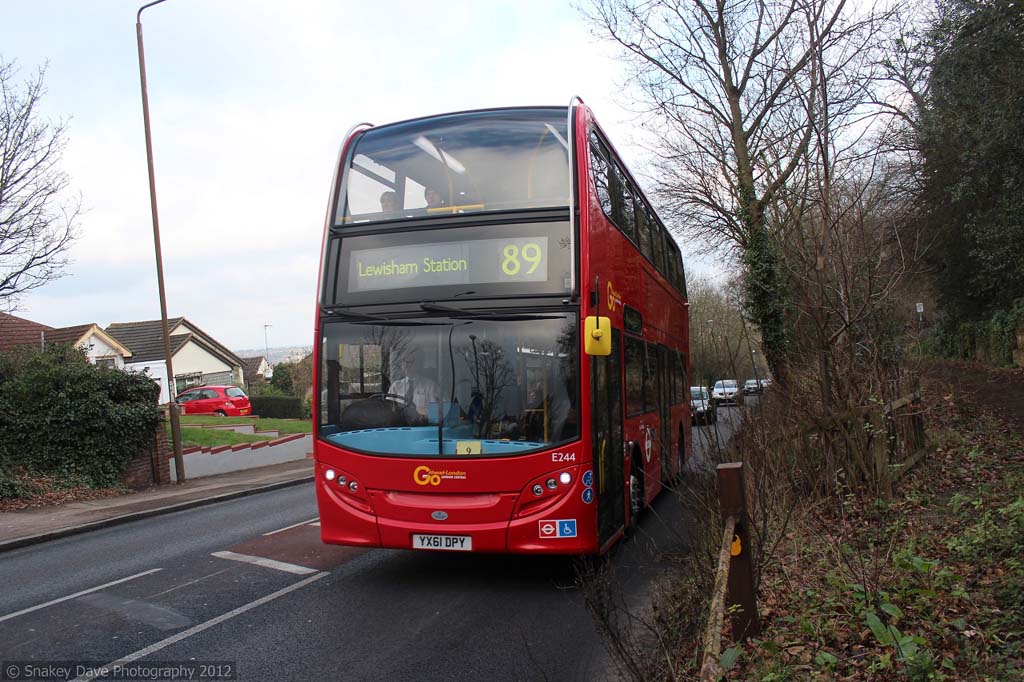 Photo © David McKay.
Sometimes Volvo B7TLs may still appear; Bexleyheath was the first garage to receive the PVL class with Go-Ahead in London, which went on to number over 400 vehicles, and later examples of the class are still in service there. Unfortunately I did not have an up-to-date photo to include with this page.
Navigation
| | | |
| --- | --- | --- |
| | Previous | Next |
| Chronologically | U7 | 251 |
| Numerically | 88 | 90 |
See also routes N89, 54, 122, 132

Photo Gallery | Bus route list | Operational details | Service changes | Operators & Garages