Home | Bus routes | Operational details | Service changes | Operators & Garages | Photo gallery
---
Route U7
2 April 2013
The U7 started off as circular route 207A, which had been operated by Centrewest with a single Metrobus on an hourly frequency. Charville Lane lies some way off the Uxbridge Road, near Hayes End, and had been served by various routes connecting it to Hayes. Such a facility still exists in the form of route 195, but the 207A was added, running from Uxbridge via the 207 as far as Hayes End, and then in a one-way-loop via Hewens Road, Charville Lane and Lansbury Drive to return to Uxbridge.
London Transport decided to enhance the service somewhat, and in 1999 the route was renumbered U7 and re-structured. The loop was unravelled, and buses ran to and from Charville Lane via Lansbury Drive in both directions, leaving Hewens Road and the west end of Charville Lane totally un-served – but these are not too far off the main Uxbridge Road. After reaching Uxbridge Road via Lansbury Drive, buses cut across to Harlington Road via West Drayton Road, and then followed route U4 to Uxbridge, usefully serving Hillingdon Hospital on the way. At the same time, the frequency was doubled to every 30 minutes and the route converted to low floor Darts.
The route was placed out to competetive tender and awarded to a new operator, Wings Buses. The company was established as a coach operator, Wings Luxury Coaches, but the U7 provided an opportunity to expand into bus work in a small way. Three East Lancs Spryte bodied Dennis Darts were ordered and painted into a distinctive yellow, red and orange livery. Three vehicles were obtained for an initial requirement for 2 buses in service, although the very tight timetable proved unworkable and the third bus was later added into the schedule too.
The Wings Buses operation subsequently expanded with two other routes, H50 and E6, the buses for which were painted into completely different liveries, but was then sold to Tellings-Golden Miller (which added a fourth route, 112, to the ex-Wings base in Hayes). T-GM in turn sold its London Bus operations to National Express, which absorbed it into its existing Travel London operation.
The inital 7 year contract expired in November 2006 but was renewed for a further 5 years by Travel London. A minor re-shuffle of vehicles took place with similar but marginally newer buses redundant from route H50, and which had been used on route 152 in the meantime, now forming the main allocation. These were painted in the standard plain red livery. A further new contract from November 2011 again saw newer buses, and the Sprytes have gone, to be replaced by Caetano Nimbus. TGM and its successors (now Abellio) have assembled quite a sizeable fleet of this type, some being bought new and others second-hand.
Photo © John Bennett.
Firstly we have 8499 (KX05 KFW), one of a number acquired from Ealing Community Transport where it had, coincidentally, been used on route 195 serving the same area. This was a single vehicle delivered in 2005, the rest of the ECT fleet having been new for the 195 in 2003. It was seen in Uxbridge Road, Hayes, in January 2013. This was not part of the original U7 route, because from 4 July 2009 the route was re-structured. The section from Uxbridge via Hillingdon Hospital to West Drayton Road is the same, but then buses carry straight across the crossroads into Hewens Road and follow the original 207A route (but in both directions) via Charville Lane to Lansbury Drive. They then turn left and head down to a new terminus at Hayes Sainsbury's. This extension could actually be done without needing an extra bus, although a 4th bus is now used to provide additional school day only journeys.
The second photo is at the Hayes Sainsbury terminus on 6 March 2013, and shows 8464 (RL02 ZTB). This is an indigenous machine and was originally TGM 432, new in July 2002 for route 465, and displaced when the route was lost to Arriva 5 years later. The CCTV camera housing on the nearside of the blind box is unusually prominent!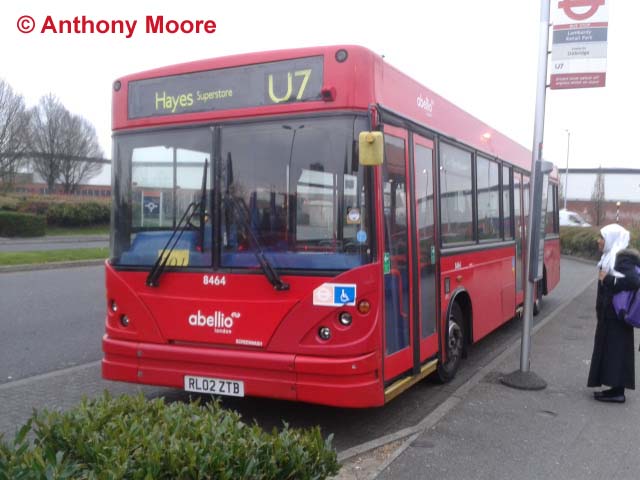 Photo © Anthony Moore.
Navigation
| | | |
| --- | --- | --- |
| | Previous | Next |
| Chronologically | 101 | 89 |
| Numerically | U4 | W3 |
See also routes 195, 207, U4, 350, E6, 112, 152

Photo Gallery | Bus route list | Operational details | Service changes | Operators & Garages