Home | Bus routes | Operational details | Service changes | Operators & Garages | Photo gallery
---
Route 195
6 July 2011
Route 195 recently had an extension from Ealing Hospital to Brentford. This serves the dual purpose of linking Brentford and Boston Manor with Ealing Hospital and Southall, and providing extra capacity on the busy section between Hanwell and Brentford (though some supplementary journeys on the E8 were withdrawn as a result). One significant drawback of the change to the 195 is that it no longer serves the grounds of Ealing Hospital, which has led to some complaints from passengers. Additionally, Southall's notorious traffic congestion provides unique challenges in providing reliable services on routes in the area, and the extension cannot have helped.
Until recently, the route was operated by Ealing Community Transport on a contract which began in April 2003 and had been extended to run until 2010. From the outset a batch of Caetano Nimbus bodied Dart SLFs had been the main allocation, and some additional vehicles were acquired secondhand for the Brentford extension from Docklands Buses, where they had been displaced from route 167 by new vehicles.
However, for undisclosed reasons, the route was transferred to First Centrewest at extremely short notice, starting on 14 March 2009, as a temporary contract running until the original contract was due to expire (after 7 years, as it had already been extended by 2 years for good performance). It is understood that other local operators were also asked to take the route on, but Centrewest was selected, perhaps because they are able to run it from their own garage in Greenford, which is right next door to ECT's base, which would assist in providing some sort of continuity. Nonetheless Centrewest supplied its own vehicles, by coincidence also Caetano bodied Darts, recently made spare from route 165 at Dagenham by the introduction of new vehicles to that route. However, a further re-shuffle of First's Dart allocations has brought in the older Marshall bodied DML variant.
The contract was duly renewed and retained by Centrewest from 17 April 2010, with new vehicles specified. They arrived as First London's standard type, the Enviro200Dart, confusingly also coded DML. DML44136 was in Boston Road, Hanwell, about to pass Elthorne Park, on Saturday 3rd April 2010 – the new buses entered service a few weeks early.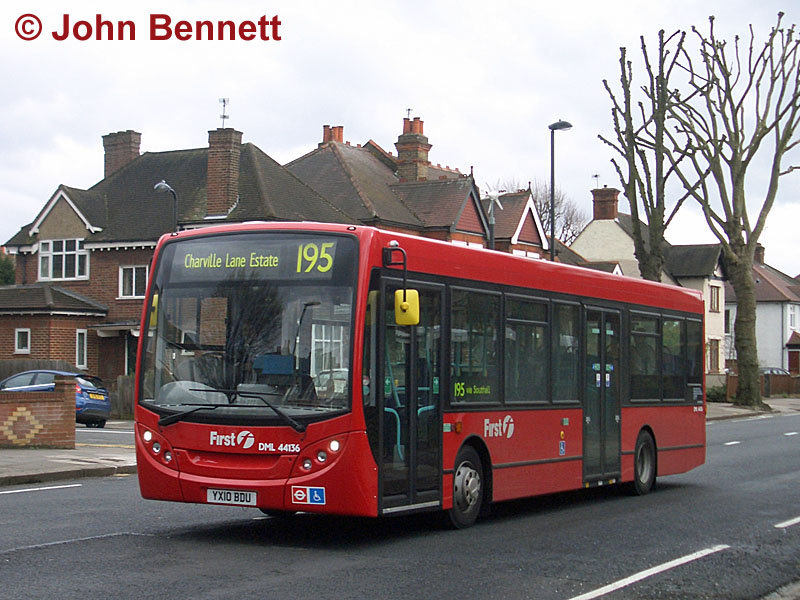 Photo © John Bennett.
A more close-up view is provided of sister vehicle DML44135 on the stand at Brentford on 15 April 2010.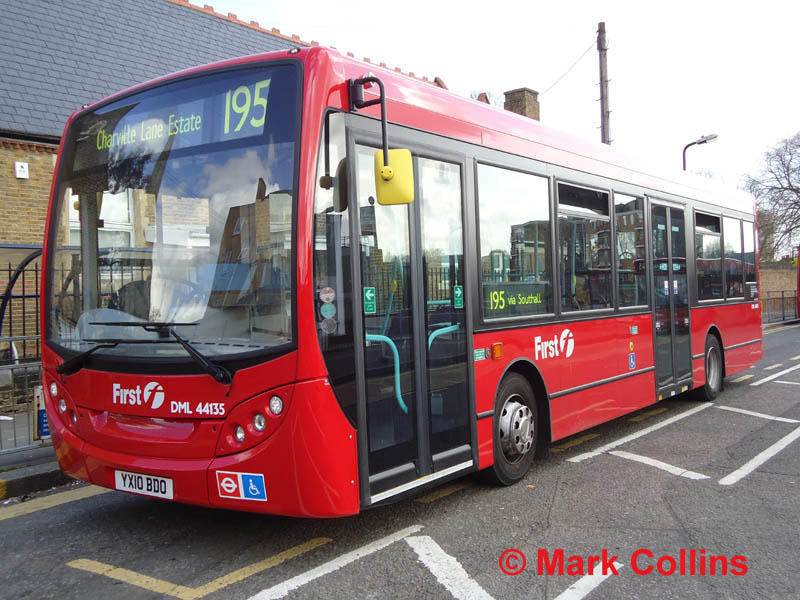 Photo © Mark Collins.

Navigation

See also routes E8, 167, 165

Photo Gallery | Bus route list | Operational details | Service changes | Operators & Garages