Home | Bus routes | Operational details | Service changes | Operators & Garages | Photo gallery
---
Route W3
9 July 2012
The W3 was one of the first London routes to sport a letter prefix, which was originally used to denote a flat fare route. Routes W1, W2 and W4 have fallen by the wayside (the present W4 is no relation), no doubt because they largely duplicated other routes over the same roads. But the W3 was different, having effectively been a renumbering of an existing route, the 233. It is of greatest use conveying the enormous numbers of tubeless Crouch End and Hornsey residents to and from their nearest railhead at Finsbury Park. It also gives a great view of London from Alexandra Palace, before dropping down to Wood Green and the glummer points east.
The route was an early convert to low floor double deckers, using DLA class DAFs from Wood Green garage. These were later joined by VLW class Volvos, but all were swept away in 2012 by new E40D/Enviro400 double deckers. Now that the route is operated from Leeside Road (aka Lea Valley) garage there is limited scope for "odd workings," as most of that garage's route's are single deck. T206 (LJ61 CHL) passes along Stroud Green Road at the junction with Marquis Road near the end of the journey on Wednesday 2 May 2012 at 20:08:54.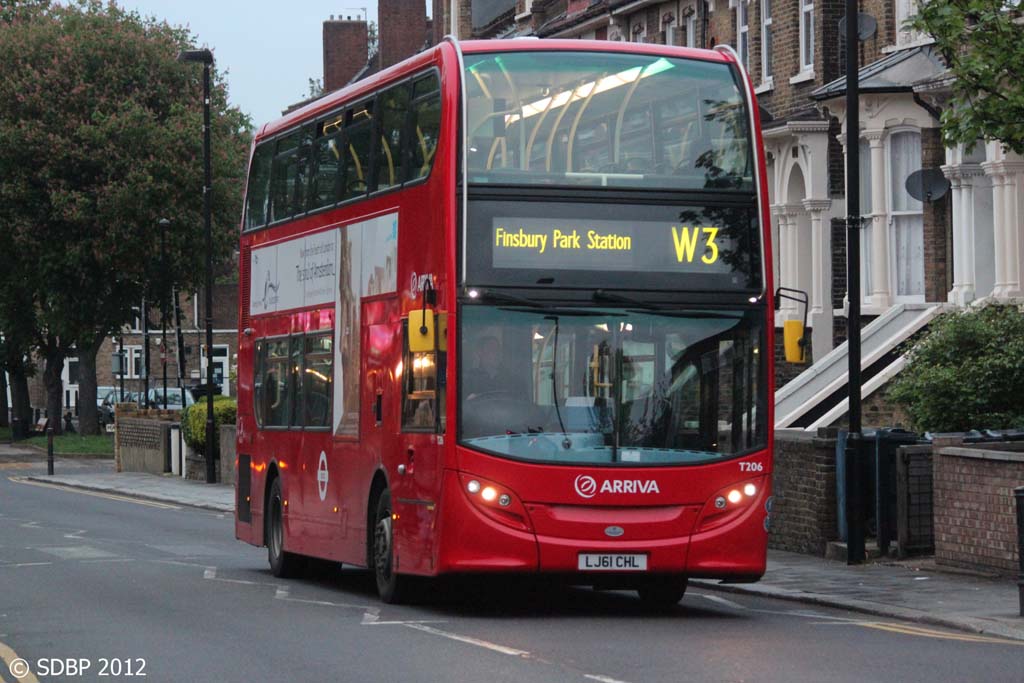 Photo © David McKay.
Navigation
Photo Gallery | Bus route list | Operational details | Service changes | Operators & Garages