Home | Bus routes | Operational details | Service changes | Operators & Garages | Photo gallery
---
Route N29
25 July 2013
The N29 has the distinction of being the only N prefixed night bus route to have been operated by articulated buses. Although there were several 24 hour routes operated by the type, these merely duplicate the daytime services. N prefixes are retained where night services differ from the corresponding day route, e.g. by being extended beyond the normal terminus, as is the case with the N29 which runs beyond Wood Green to Enfield, covering route 329.
The complication where artics is involved was that their "cashless boarding" mode of operation requires ticket machines to be installed at all stops along the route. Whilst this was fine for the intensive day services they normally operated, it is much less easy to justify for night services, and earlier artic conversions such as the 38 and 73 retained double deck operation on their night bus variants. However, when it came to the 29 – the last artic conversion – it was decided to operate the artics on the night route as well. Ticket machines were installed at certain key stops, and the idea was that passengers boarding at other stops without a ticket would be taken free of charge to the next stop where there was a machine to buy a ticket there. In practice, this is likely to have happened very rarely.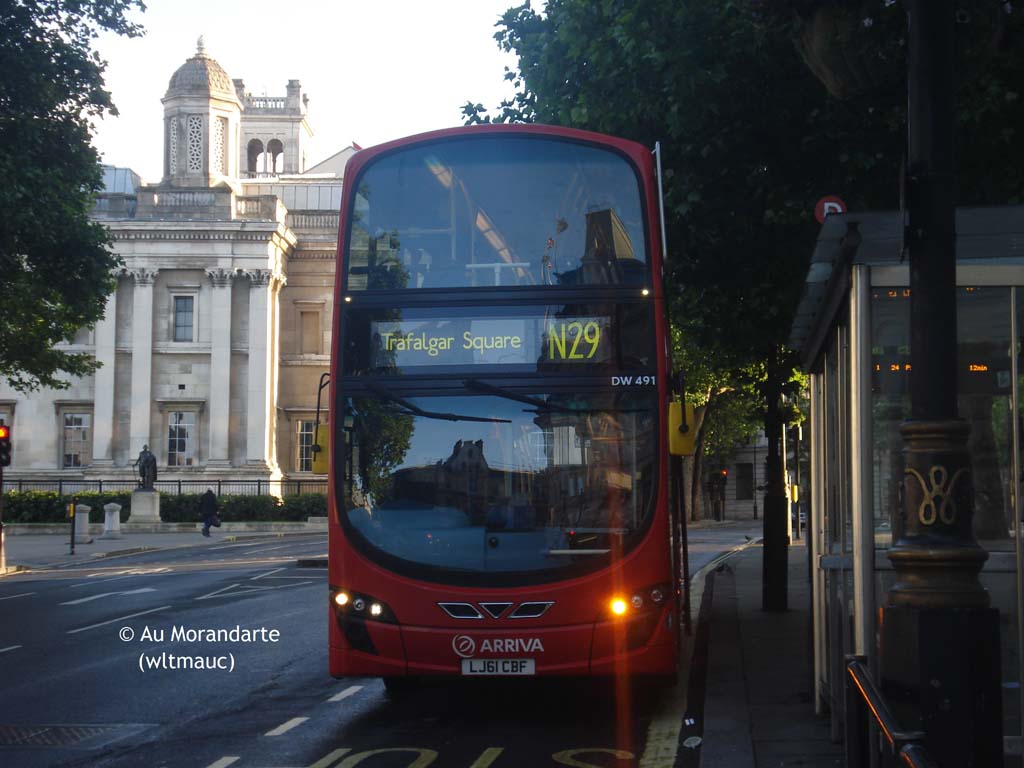 Photo © Au Moran.
I have only just received photographs allowing me to update the page to reflect its conversion back to double deck! Two have been provided, both at Trafalgar Square on the morning of 15 June 2013 – DW491 and DW486 (LJ61 CBF and LJ61 CAE respectively). It makes a change to see the place deserted, rather than heaving with tourists and traffic!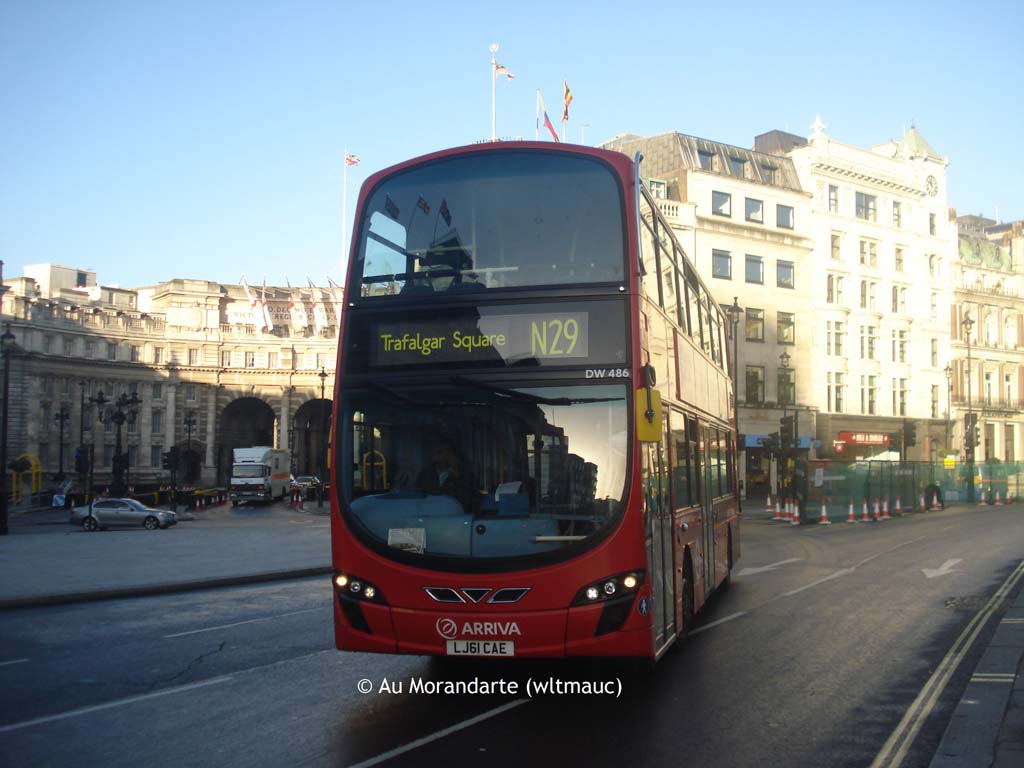 Photo © Au Moran.
The N29 is easily the busiest night route in London, running more frequently at weekends than the day 29 does at the height of rush hours, and commanding an incredible 37 buses to do so. No doubt this is accounted for by the areas it serves, and also by it following the Piccadilly Line.
Navigation
| | | |
| --- | --- | --- |
| | Previous | Next |
| Chronologically | 88 | 92 |
| Numerically | N21 | N47 |
See also routes 29, 329, 38, 73

Photo Gallery | Bus route list | Operational details | Service changes | Operators & Garages