Home | Bus routes | Operational details | Service changes | Operators & Garages | Photo gallery
---
Route 45
25 March 2010
The 45's main claim to fame is that it received (numerically) the first Volvo B7TL low floor double deckers. About two thirds of the 45 was converted from Monday 31 January 2000, and the proportion steadily increased. However, Camberwell garage had spent quite a long time over type training and in the event they were leapfrogged by a few days by a handful on Peckham's route 63 – which, as it happens, shares with the 45 the distinction of running double deckers across Blackfriars Bridge. The two routes between them took London Central's first order for 46 of the type, this batch being the only ones with Alexander bodywork with this company.
Transfer of route 37 from London General to London Central at Peckham resulted in the AVLs, as they are coded, being concentrated at Peckham, simplifying maintenance and spare parts provision – although the type did re-appear at Camberwell after new buses were introduced to the 37, but the AVLs have now all been disposed of completely.
In their place on the 45 are Plaxton bodied B7TLs, much the most common combination at London Central/General. Here PVL 177 (X577 EGK) is seen on Wednesday 11th May 2005 at the 45's terminus in Atkins Road, Streatham Hill – literally in the middle of the South Circular Road! This offside stand was to be abandoned on safety grounds, but problems with assaults on drivers on the replacement stand nearby resulted in the old stand reverting to use – it seems that the surrounding one way system actually helps to protect the drivers rather than being a danger!
Photo © John Nicholas Bennett.
Camberwell garage also now has a substantial quantity of Wright Eclipse Gemini bodied Volvo B7TLs. Most of these were bought new for routes 68, 468 and X68 won on tender from Arriva, but some have also been acquired from other garages. In the latter category is WVL4 (LG02 KGX) on Farringdon Street, near Blackfriars station, on 14 April 2006 on a short working to Brixton, complete with a badly set number blind.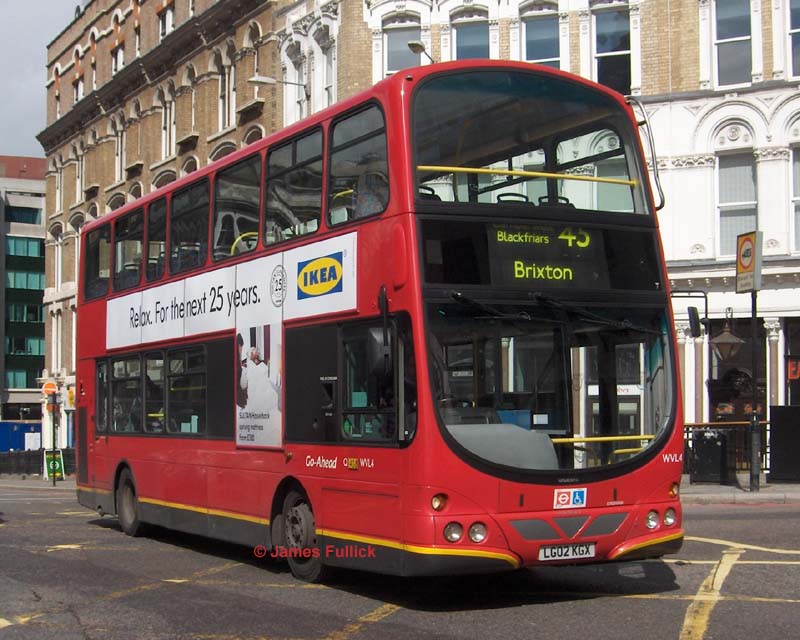 Photo © James Fullick.
Opinion is divided as to the relative merits of the various types of low floor double decker currently on the market: what is, I think, generally agreed is that they all leave plenty to be desired! A definite merit for the Volvo over both the Dennis Trident and DAF DB250 is the level of noise produced; generally, the B7TL is amazingly quiet, although they do have extremely noisy fans which sometimes kick in. Unfortunately (from an enthusiast viewpoint) this also makes it rather characterless!
Delivery of the AVLs was very late indeed. During 1998 and into 1999, DAF, Dennis and Volvo were all busy developing designs of low floor double decker. The DAF DB250 was unique amongst these in being based on an existing chassis. Instead, Dennis and Volvo based their designs to some extent on corresponding full size single deck models. In particular this meant an in-line engine, which is cheaper and more reliable. The downside is that it takes up more space behind the rear axle, and it was felt that the long rear overhang resulting would be unacceptable on a double decker.
Dennis, fortunately, realised this at an early stage, and did not suffer a major delay in getting buses into production, but for Volvo the change resulted in a delay of around a year! Eventually the AVLs started to appear, almost two years after being ordered by London Central. Volvo re-christened the type from B7L to B7TL to reflect the transverse engine arrangement. A substantial backlog of orders for Volvo buses had built up in the mean time, and one wonders how much business Volvo lost in the process.
One peculiarity from the original design that remains is the asymmetric rear layout. This stems from the fact that the B7L is intended to be a very global design, and in many parts of the world it is normal to fit a door at the very rear of the bus. Therefore, to keep the engine out of the way, this is placed to the left of the bus – as most countries drive on the right this would allow fitting the door correctly on the right. This is not much use in this country, where we drive on the left, but there is little demand for such an arrangement here anyway! Having said all this, Alexanders have made an effort to mask the unbalanced appearance by placing the rear window centrally, even though part of it is obscured by a pillar. On the Plaxton President bodywork the whole window is offset slightly.
Anyway, back to the 45, which is not now much different from its 1936 route, differing only to the extent of running to Streatham Hill rather than Clapham Common and running only half as frequently. However, the route disappeared completely for a brief period, being largely replaced by route 4A – itself a temporary version of present day route 4, possibly an economy brought about by the war.
But the 45 came back to life soon, as a direct replacement for tram route 34 – which coincidentally (or perhaps not) had a substantial section in common with the old 45 between Blackfriars Bridge and Brixton, continuing via Lavender Hill, Clapham Junction and Battersea Bridge to Chelsea. The 45 was extended slightly at both ends to Farringdon Street and South Kensington. Later, it was extended very ambitiously indeed, from Farringdon Street via its old route along Gray's Inn Road to King's Cross, and thence to Camden Town and Hampstead Heath, in replacement for the 513 and 613 trolleybuses. However, as was fashionable at that time, it lost its Sunday service, with route 17 being extended instead on that day to South Kensington, running right through from North Finchley! (I am not sure if there was actually a through service, however.)
Unsurprisingly the 45 was rather unstable in this form, and it was therefore chopped up into three overlapping sections. The 45A (now 345) ran from South Kensington to Elephant & Castle, the 45 from Brixton to King's Cross – almost identical to its original route, bar the lost section from Clapham Common to Brixton – and the 46 from Farringdon Street to Hampstead Heath, and on to Kensal Rise. Loss of the historical connections has meant the sections could be altered, and indeed the 45 has been extended from Brixton to Streatham Hill and the 345 diverted at Camberwell to Peckham, both providing new links.
Navigation
| | | |
| --- | --- | --- |
| | Previous | Next |
| Chronologically | EL1 | 83 |
| Numerically | 43 | 46 |
See also routes 63, 4, 345, 46

Photo Gallery | Bus route list | Operational details | Service changes | Operators & Garages