Home | Bus routes | Operational details | Service changes | Operators & Garages | Photo gallery
---
Route 379
30 October 2013
The 379 is one of London's shortest routes, with a running time of approximately 10 minutes from end to end. Its function is to link the smallish residential area to the north-west of Chingford to the shops and station, and thus there is little else for it to go to. A few years ago, the long-standing half-hourly one bus operation was doubled up and (after considerable delay) converted from minibus to low floor Dart operation. Following routine re-tendering the route was awarded to Arriva London from 10 March 2007, which drafted in standard Mini Pointer Darts from route 450, based at Edmonton garage.
A new contract in 2012 called for new buses so the route was officially converted to E20D/Enviro200 operation. In practice the allocation was shared with that of route 192, since the 379 joined it at Leeside Road garage with the new contract from 10 March 2012, when Edmonton garage closed. Both routes have subsequently moved to Enfield garage as part of a process of winding-down Leeside Road garage which has been compulsorily purchased and will have to close next year. Luckily Arriva had kept Edmonton which will re-open as a parking depot, though not with maintenance or staff facilities. Anyhow, in practice it is often the older E200Darts from the 192 that are found on the 379; these have a different chassis specification but are outwardly similar. EN3 (LJ57 USU) sets down passengers at Chingford bus station on 20 June 2013 – I am surprised to see quite so many people getting off at this point!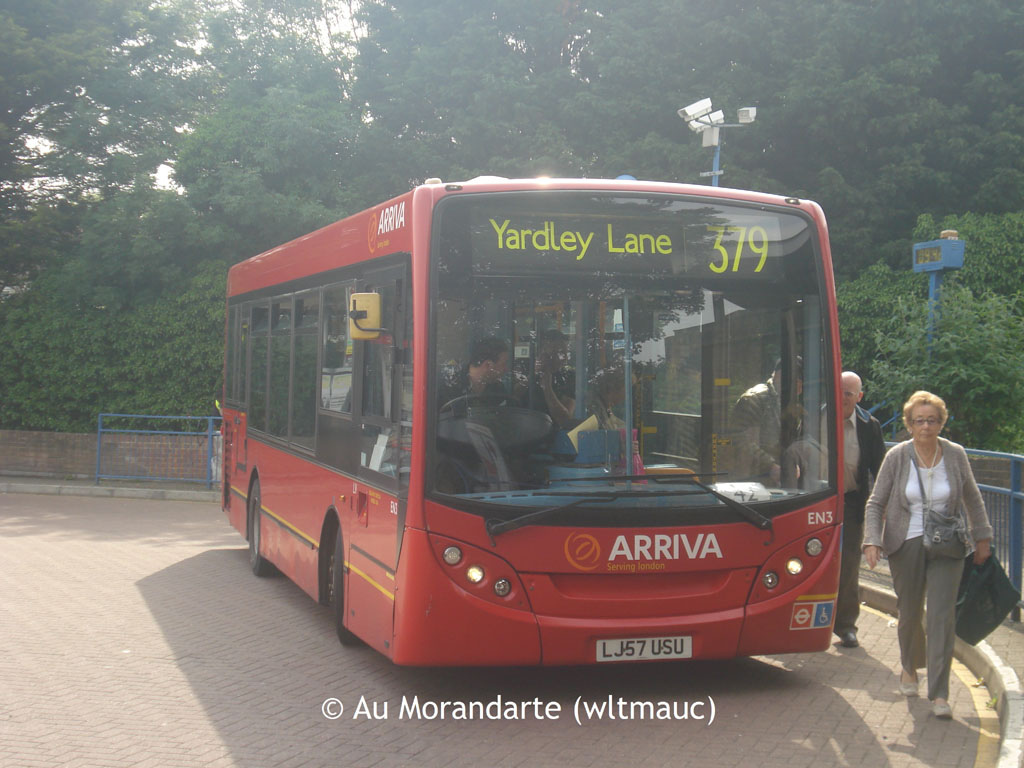 Photo © Au Moran.
The hourly 205, Chingford to Potters Bar via Waltham Cross, provided a service over this stretch as far back as 1934, using one-man-operated Dennis Darts of an earlier generation! The route was gradually turned into the 242 – originally just Waltham Abbey to Waltham Cross – finally vanishing in the 1960s. The 242, running as it did almost entirely outside the old Central Bus area, lasted until 1986, when it was curtailed to run Waltham Abbey – Potters Bar only. The remaining section through Essex became the responsibility of Essex County Council, which provided route 503 from Harlow to Walthamstow via Epping and Waltham Cross (now replaced by the 505).
But this did not provide the local link from Yardley Lane to Chingford, so the 179A was born, running via the main roads as the 242 had done, albeit with no Sunday service. It was so numbered as it was operated effectively as an extension of route 179 – buses would operate from Barking to Chingford Station as a 179, then becoming a 179A to Yardley Lane and back, before returning as a 179 to Barking. Leyland Nationals were used, and the A part of the route number was displayed on the destination blind, obviating the need for the driver to change the number blinds. However, this arrangement did not last long, as when Grey Green took over in 1987 it was renumbered 379.
Grey Green ran the route from its Barking garage using a mixture of new Lynx and older double deckers, although the re-introduced Sunday service was quickly transferred to Stamford Hill when that opened, allowing Barking to close on Sundays. Tendering again in 1989 resulted in loss of the route to Eastern National, which subsequently split with the London operations included in the new south Essex Thamesway operation. EN converted the route to minibuses run much more locally from Ponders End, enabling the diversion via backstreets including Drysdale Avenue and Yardley Lane, where the route now operates in a loop via Antlers Hill. Once all in common ownership within Firstgroup, the Ponders End base was transferred to the First Capital operation and subsequently closed with the buses and routes transferred to the large Northumberland Park garage, where the route remained until the loss to Arriva from 10 March 2007.
Navigation
| | | |
| --- | --- | --- |
| | Previous | Next |
| Chronologically | 46 | K1 |
| Numerically | 376 | 380 |
See also routes 450, 505, 313, 179

Photo Gallery | Bus route list | Operational details | Service changes | Operators & Garages