Home | Bus routes | Operational details | Service changes | Operators & Garages | Photo gallery
---
Route 275
6 June 2012
In the last version of this page, I wrote that the 275 had been operated by a succession of modern vehicle types for the previous 15 years or so, yet none of those vehicles were purchased specifically for the route, all being cascaded from other routes! At last, that has now changed, as new E40D/Enviro400 double deckers have been introduced. (These are basically Tridents but re-worked to meet the latest regulations, the most noticeable manifestation of which being the lack of an offside emergency door.) 10114 (LX12 DDA) lays over at St. James Street station on 21 May 2012, with the station visible on the embankment behind. Stagecoach's Trident/E40D series in the national fleet numbering system started at 17001 but has now "overflowed" at 20000 to take the 10xxx blocks.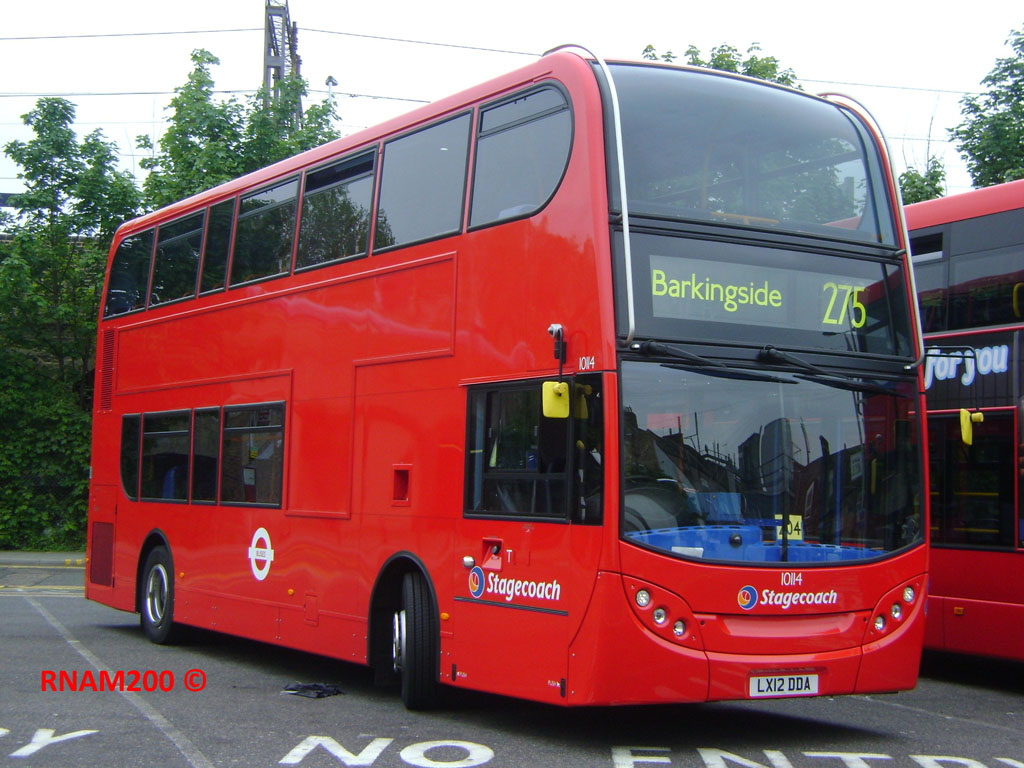 Photo © RNAM200 (Robert Mighton).
In its last months with London Buses, the 275 went from Titan to single deck LS class Leyland National operation (as a result of moving from Walthamstow to Leyton garage), before being lost to Eastern National in 1986. EN, as was common in those times of financial limitation, used some old Bristol VRs, but at least this allowed a reversion to double deck operation.
Eastern National was split in two in July 1990, and the London operations, including the 275, were passed over to the new Thamesway company. However the 275 was lost to Grey Green from March 1992; to begin with, Grey Green drafted in some modern but unusual East Lancs bodied Scania double deckers. In a further cascade of types upon the loss of route 473 in 1995, the 275 gained the single door Volvo Citybuses previously used on the 473 and its predecessor, the 173.
A surplus of dual door Citybuses and the better sale price of the single door versions saw the latter sold off and replaced by dual door buses from elsewhere in the fleet, although they were subsequently joined at Barking garage by other types, including Northern Counties bodied Leyland Olympians and also the East Lancs rebodied Volvo B10Ms normally on the 66. The Grey Green fleet was later absorbed into the general 'Arriva London,' and the famous grey and green colours gave way to red with modern cream swoosh.
I was under the impression that the route was going to get new low floor single deckers as part of its contract from February 2000, but this did not occur, even though the route received an appropriate frequency increase at that time. Instead, contract renewal in March 2005 saw new low floor double deck buses specified – but again, instead of them being put on the 275, they were delivered to Tottenham garage (in some cases after temporary use on route 19), with other low floor double deckers being cascaded across to Barking. This is no doubt to aid standardisation, as the latest buses were Alexander bodied whereas Barking had Wright bodied vehicles.
Contract renewal in 2012 saw the route awarded to Stagecoach London and thereby returned to Leyton garage after a very long absence. Amazingly, although new vehicles (as above) were specified, they were not ready from the start, and so yet again the route acquired some second hand cast offs! As there is a fair quantity of buses of this type at Leyton garage it is likely that appearances will continue for the foreseeable future, so I have included a couple of examples of these buses.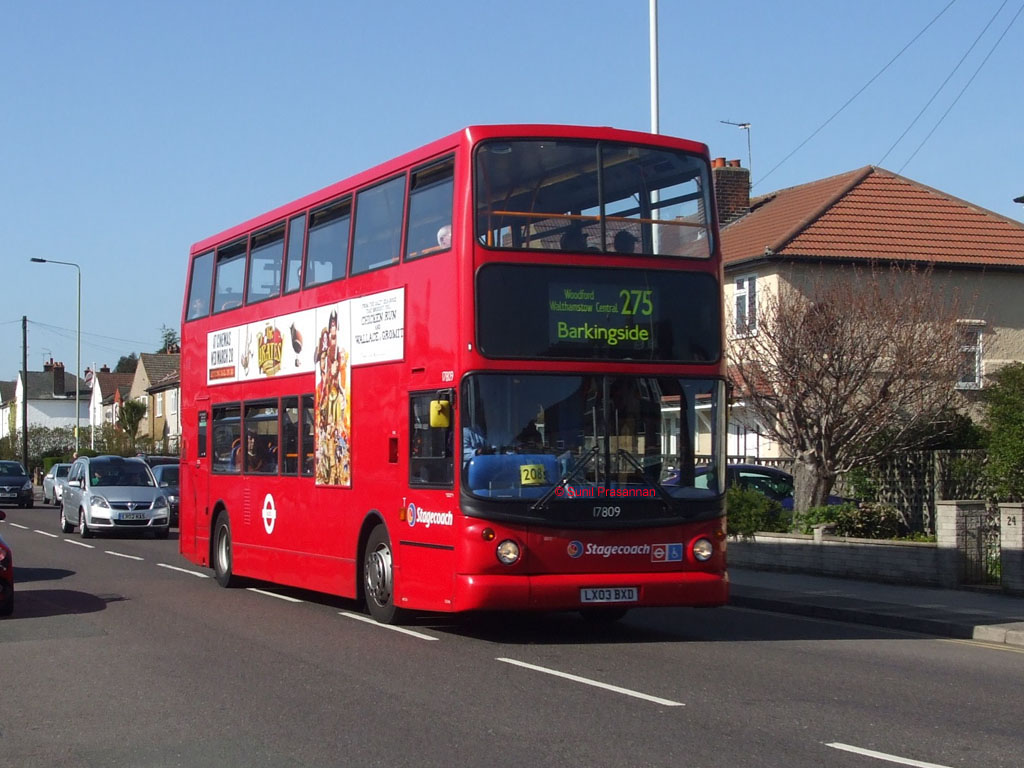 Photo © Sunil Prasannan.
Above, 17809 (LX03 BXD) is seen in Tomswood Hill, north of Barkingside, on 27 March 2012. This is very much the route's home territory, on the far north edge of Redbridge borough. Indeed, a short section of the route protrudes into Essex, this bus having just re-entered London. Below, slightly newer sister vehicle 17906 (LX03 ORZ) takes stand time at Barkingside Tesco. There is a standard TfL design stop flag, but the Tesco version seems to be strategically positioned to obscure it; every little helps, as they say!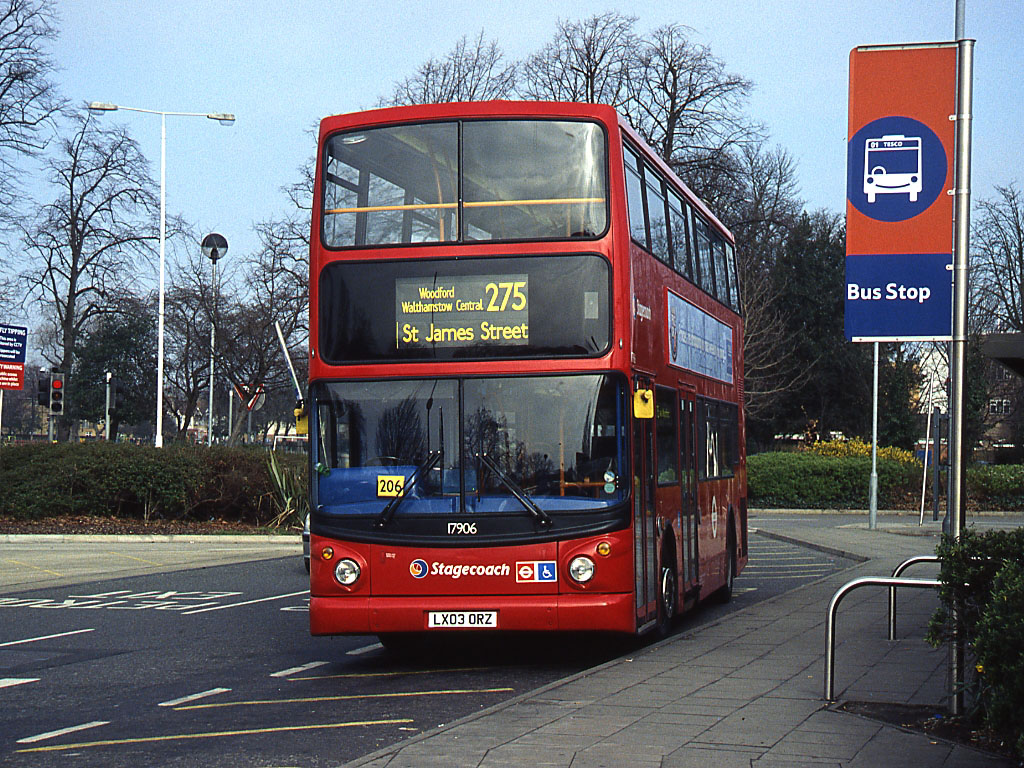 Photo © Stephen Williams.

The 275 started off in 1960 to replace the 625 trolleybus between Turnpike Lane and Woodford Green via Tottenham and Forest Road, with an extension over new ground through Woodford to Woodford Bridge. The 275 was diverted to Walthamstow central in 1969, the 123 taking over the leg to Wood Green. That rendered it a rather short route, although it was soon extended a short distance at the other end to Claybury Hospital. It became even more useful in 1972 when it was diverted between Forest Road and Woodford Green via Hale End Road, The Avenue and Chingford Lane, all previously unserved, instead of running direct along the main road. It was further extended at the east end via Tomswood Hill to Barkingside in 1976, giving the present route. Schoolday projections onward to Claybury Broadway for Caterham High School have now been transferred to dedicated route 675.

Navigation

See also routes 103, 473, 173, 66, 19, 123, 675

Photo Gallery | Bus route list | Operational details | Service changes | Operators & Garages