Home | Bus routes | Operational details | Service changes | Operators & Garages | Photo gallery
---
Route 202
26 May 2009
The new MAN single deckers ordered for route 202 have now arrived, nearly 6 months after the contract they were ordered for began. Metrobus has ordered a diverse range of single deck types – this is its third batch of MANs, and each has had different bodywork, the earlier batches being East Lancs Esteems for route R2 and Enviro200s for route T32. This time the choice was the Evolution from MCV, a design which could be said to be an evolution of the Marshall Capital, and at least shares sloping window bottoms with that type! 714 (AJ58 WBE) heads into Catford near St. Dunstan's College on Monday 23 March 2009.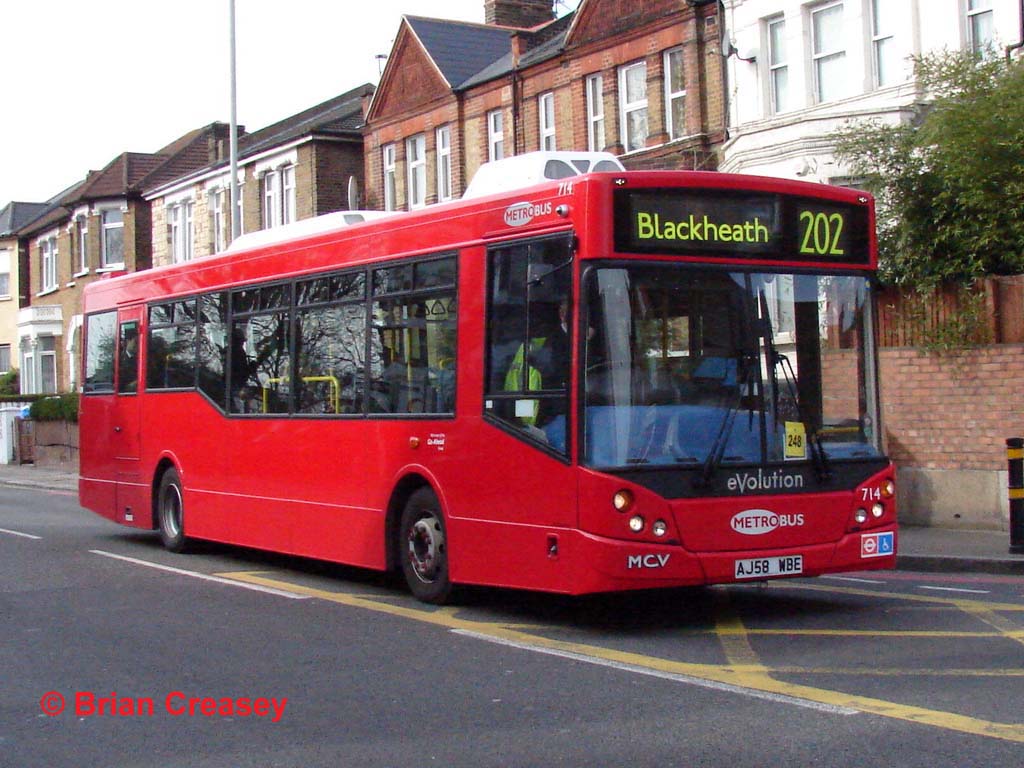 Photo © Brian Creasey.
Until recently, the 202 was deemed unsuitable for double deck buses, owing to low trees in Wells Park Road, near the Crystal Palace end of the route. However, the issue was forced when the route was awarded to Metrobus – it was awarded on the basis of the new single deckers above, but they were not going to be ready in time, and Metrobus did not have enough other single deckers to cover in the meantime. Therefore agreement was reached to use double deckers, the Wells Park Road trees being given the necessary attention. The Scanias continue to appear fairly frequently, as the 202 is the most suitable route at Croydon garage for double deck substitutions, so I have retained this photo of 435 (YV03 PZE) near the start of the route in Blackheath on 27 September 2008.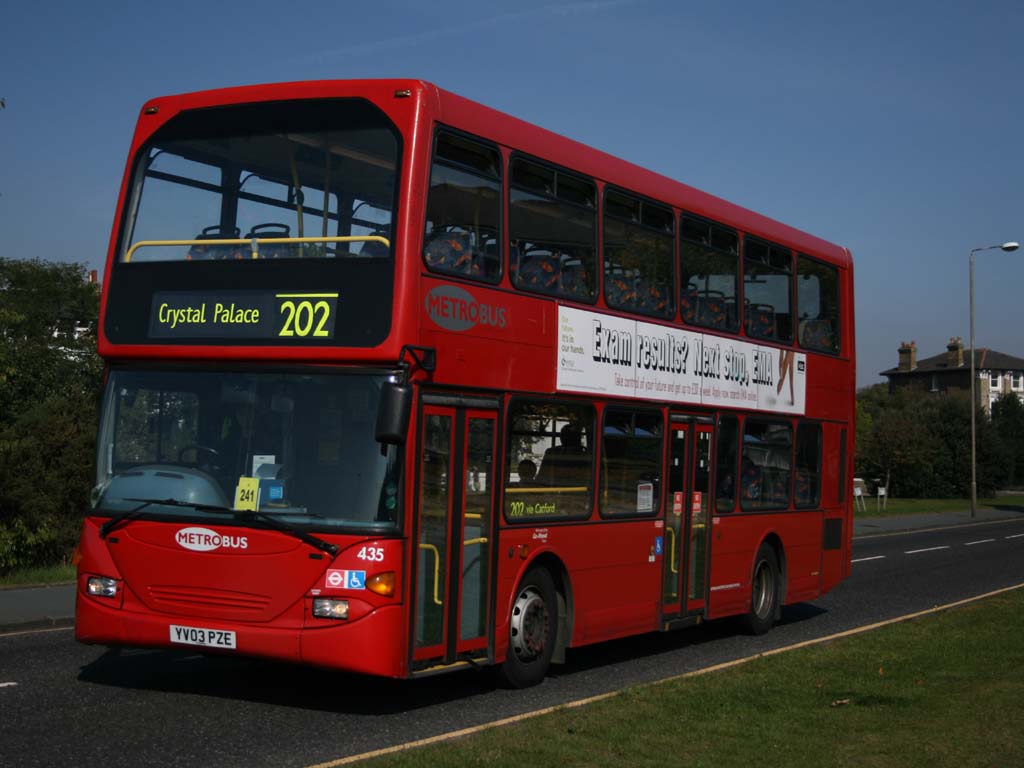 Photo © Mark James.

That was the third Saturday of Metrobus operation, but the contract should actually have started on this date, but Metrobus had lost other routes to Selkent four weeks earlier, and it was sensibly decided to harmonise the contract start dates. The double deckers were available following the loss of route 466 in the Croydon area to Arriva, and will be cascaded on to Metrobus's provincial routes when the new buses arrive for the 202. Metrobus is another company to adopt overall red – which is probably what TfL really want anyway, although a limited amount of variation is still allowed!

It is a pity that the 202 was specified for continued double deck operations – loadings at busy times are sufficient to warrent double deckers. However, TfL are adament that the 202 "copes" with single deckers, but it is very busy in the Catford area, and crowding at peak times is at levels such that there is very likely to be a considerable level of suppressed demand. One wonders what passengers make of the re-conversion to single deck, having benefitted from the larger vehicles!

The 202 was introduced on 9 November 1991 as a minibus route in a slightly complicated scheme to replace route 108B (Crystal Palace to Lewisham via Lower Sydenham – this was never part of the 108, nor ran through the Blackwall Tunnel). The scheme was also intended to improve links to Lewisham, and route 75 was duly diverted there, with the 108B effectively being diverted to Blackheath over the former 75 route and renumbered 202. The 75 also took over the former 108B routeing via Woolstone Road, leaving the "main road" route to the 202. Passengers from the Crystal Palace end wanting Lewisham had the option of route 122, whilst those from Sydenham had the diverted 75 – but those from Lower Sydenham were less fortunate, as the 75 was further diverted via Mayow Road, leaving them with only the 181 on a circuitous route via Hither Green. Also of note is that neither the 122 nor 181 serve Lewisham Hospital, an important objective for passengers in this area.

In addition, the 202 followed a different route between Crystal Palace and Sydenham, to provide Wells Park Road with a bus service for the first time. However, this soon led to complaints from passengers along Westwood Hill, who were left with only the 122, which does not serve the shopping area of Sydenham. As a result, the following June the 202 was reduced in frequency, and a 306 was introduced via Westwood Hill, the two routes providing a joint 10 minute frequency between Sydenham and Blackheath. This also helped resolve complaints of insufficient capacity, as the 202 had previously been only every 12 minutes. The 306 lasted until 1996, when route 450 was extended from Crystal Palace to Lower Sydenham to provide this link instead, the full 10 minute frequency then being provided on the 202.

The route is still very well used between Catford and Sydenham, even though it is supported by the 181 on that section. It is also quite busy east of Catford, especially since route 160, which supports it as far as St. Mildred's Road, has been diverted away from Brownhill Road to run via Sandhurst Road, so a double decking would have made good sense all round. Previous operator Selkent certainly had plans to use double deckers if any came surplus to requirements, but this never came about in the end, probably because of the Wells Park Road tree problem.

Navigation

See also routes R2, T32, 466, 246, T33, 75, 108, 122, 181, 450, 160

Photo Gallery | Bus route list | Operational details | Service changes | Operators & Garages