Home | Bus routes | Operational details | Service changes | Operators & Garages | Photo gallery
---
Route 315
13 July 2009
One of London's smaller routes in the 315, running between West Norwood and Balham – which stations on the same railway line, taking 7 minutes by train compared with around 25 minutes on the bus! As the route only runs every 20-30 minutes only 4 buses are needed, which is most unusual for a route this close to central London. It is currently run from London General's Stockwell garage using Mini Pointer Darts, and LDP288 (LX06 FBC) approaches the terminus at Norwood bus garage in May 2006.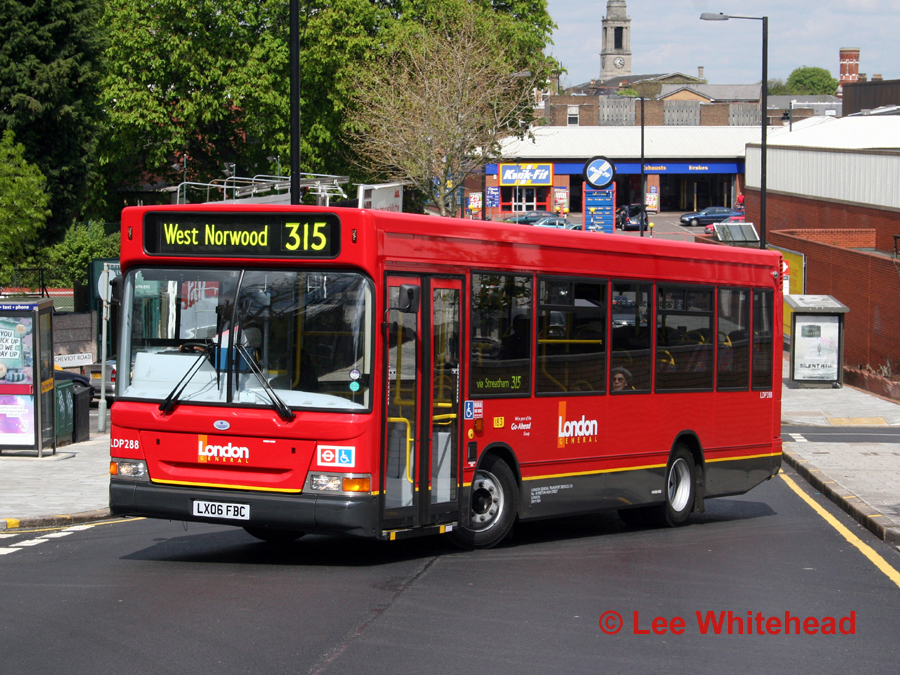 Photo © Lee Whitehead.
A second photo is provided at the route's other terminus, alongside the high wall of Balham main line station, in the imaginatively named Balham Station Road. The sculptures on the wall are not, of course, visible to train passengers. The bus is LDP290 (LX06 EZV) seen on Thursday 26 March 2009.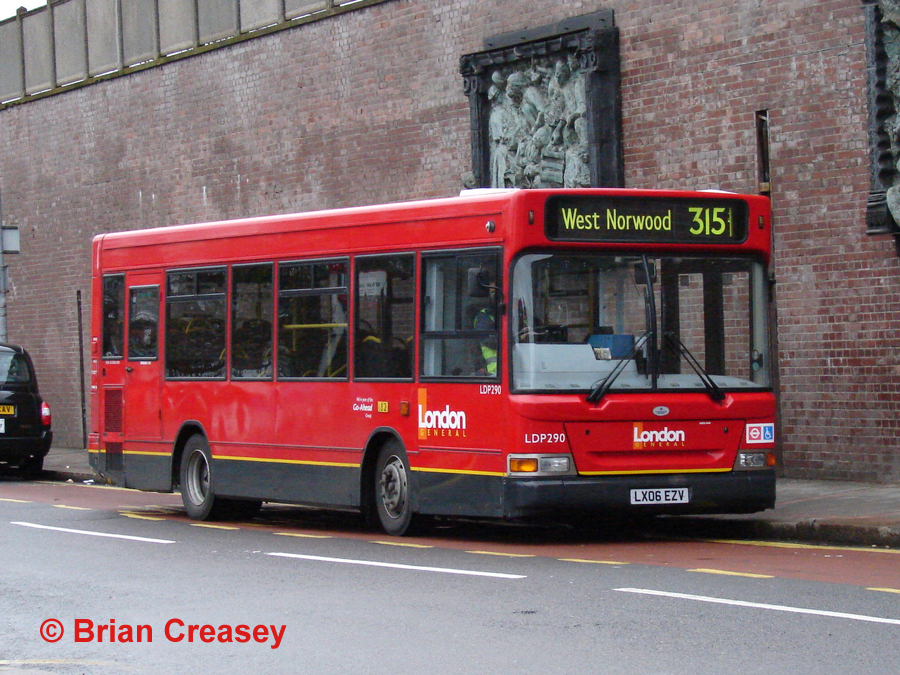 Photo © Brian Creasey.

The route was created in 1995 by amalgamating the Streatham – Balham section of route 115 (which was withdrawn) and the Streatham – West Norwood section of route G1. The 115 started in 1984 using Leyland Nationals from Croydon garage and ran between Tulse Hill and Balham via Upper Tulse Hill, Streatham and Bedford Hill – the latter having, surprisingly, been unserved until then, despite in places being some distance from any other public transport. The route was later extended to Forest Hill and was converted to Metroriders from the re-opened Streatham garage. The section east of Streatham is now partially covered by routes 201 and P13.

The 315 was initially awarded to LondonLinks, based in the Croydon area again; LondonLinks was subsequently subsumed into Arriva London South, and they moved the allocation to Norwood garage, outside which the route terminates. However, they soon lost it to Connex Bus, who took it over early on sub-contract before the formal contract began in 28 April 2001. The route thus reverted to an allocation some way off route, as Connex Bus was based near Londonlinks in Beddington! Indeed, no sooner had they moved the route to one a bit closer home (Battersea), in 2005, than they also lost the route, this time to London General, whose Stockwell garage is not particularly close to the route either – though it should be a quick run down the Northern Line for changeovers.

Navigation

See also routes G1, 201, P13

Photo Gallery | Bus route list | Operational details | Service changes | Operators & Garages