Home | Bus routes | Operational details | Service changes | Operators & Garages | Photo gallery
---
Route C3
17 January 2008
Many routes have been converted from single to double deck operation in recent years, but one of the more surprising candidates was the C3. Loadings always appear to be very light, but it is the sole route to serve the huge Chelsea Harbour development, and the move seems to have been to pre-empt increases in demand in the future. The route has also benefited from two frequency increases in recent years, doubling the service level from 4 to 8 buses per hour.
The route is operated by Travel London, having been inherited by them from Connex (and in turn from Limebourne), and Dennis Tridents with Alexander ALX400 bodywork are normal. TA38 (Y38 HWB, and since renumbered 9738) is one of a batch originally ordered by Connex for route 196, since lost to London General, and is seen at Earl's Court in October 2006.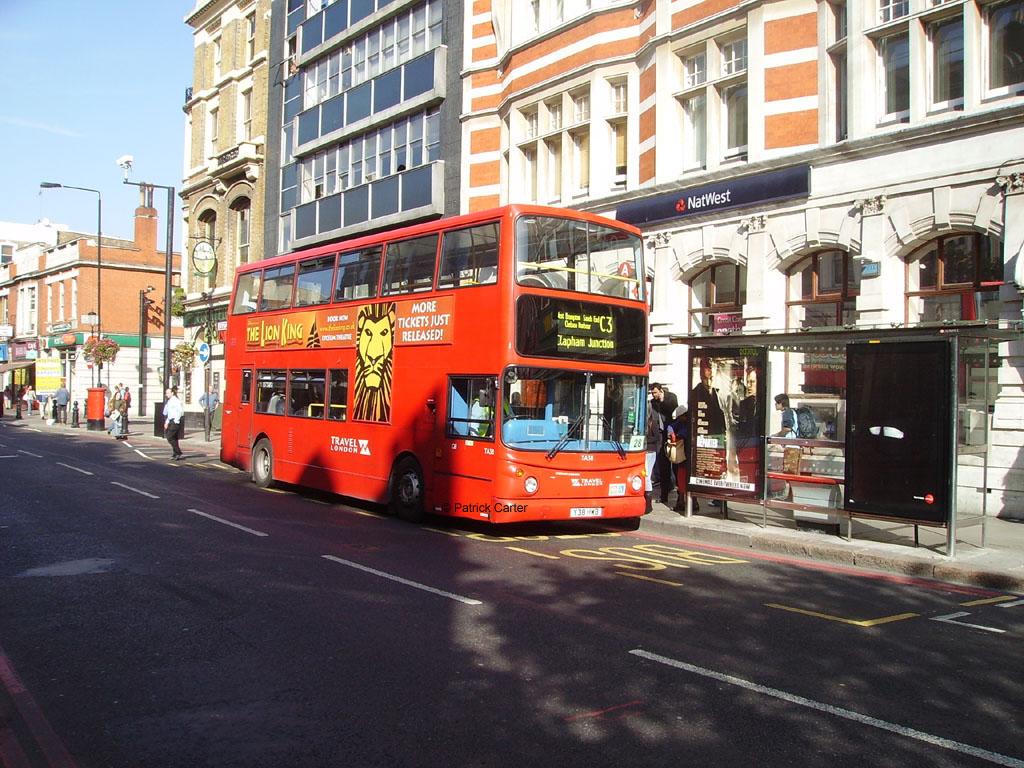 Photo © Patrick Carter.
The route was started on 13 April 1987 on behalf of Chelsea Harbour Ltd, marketed as the Chelsea Harbour HOPPA (hence the route number), running just between Chelsea Harbour and Earl's Court. Four minibuses were used, painted in a special dark blue livery, and initially running from Battersea garage: two RH class Robin Hood bodied Ivecos, and two SC class Carlyle bodied Sherpas. The allocation moved to Victoria Basement (GB) when the central London minibus unit was formed on 12 September 1987. When GB closed the route reverted to Battersea, by then an outstation of Stockwell rather than a garage in its own right.
The route was soon subjected to tendering, although was retained by London General initially, but with extensions at both ends: at the south, to Sands End Sainsbury's, and at the north, during shopping hours only, to Kensington High Street via Barkston Gardens and Marloes Road. In 1989, the original minibuses were withdrawn, being replaced by more stylish Optare CityPacers, on Volkswagen LT55 chassis, cascaded from route C2. This type, along with the later Optare StarRider on Mercedes 811D chassis, were quite revolutionary in moving minibus manufacture away from parcel body conversions to purpose built designs. In 1990, the Kensington extension was taken off, but the route was further extended at the south across Wandsworth Bridge to Clapham Junction Station via Grant Road, and including an intriguing deviation via Plantation Wharf. The vehicle allocation eventually settled down with Optare Metroriders.
A new contract starting in September 1996 saw various changes. The route was revised to operate direct via York Road, and then via the full length of Plough Road and St. John's Hill to approach the Clapham Junction terminus from the south. An evening and Sunday service was also introduced for the first time. Operation was transferred to Putney garage, and new ML class Marshall Minibuses were introduced. This type, with an unusual 4 cylinder (rather than 6) engine proved disastrously unreliable. Combined with severe staff shortages, this prompted London General to surrender the contract, and it was taken over by Limebourne in October 1997, complete with the vehicles on hire.
Limebourne had been part of the Q-Drive group, most of which passed to Centrewest in 1996. However, the coach business was retained, and route C10, which had just been won from London General, was planned to run from the coach depot in Silverthorne Road, Battersea, and so was kept on, and a bus business was soon developed in that area. However, the group went into receivership in October 1998, but the local bus business was sold to local management under the name of Independent Way Ltd. Having had its vehicles re-possessed (albeit not the London General owned Marshalls), replacement vehicles were sought, and a batch of ex-Metroline DT class Dennis Darts was obtained for the C3 (and C10). These were painted in the company's smart Red and Green livery, and also received Hall names in Great Western Railway's tradition!
The Limebourne business was sold to Connex on 7 July 2001, and the Battersea operation has since gone from strength to strength. The Darts were soon replaced by new Optare Solos, fulfilling the terms of a new contract and restoring low floor operation to the route after the retirement of the Marshalls, but these did not last long as Tridents were transferred in from Beddington to effect the double deck conversion. In the meantime Connex had sold its London bus operations to National Express, who have re-branded them Travel London and painted the vehicles into allover red. The current contract is now reaching its end, having had a two year extension for good performance, and the operation has just been re-awarded to Travel London with little outward change.
Navigation
| | | |
| --- | --- | --- |
| | Previous | Next |
| Chronologically | 47 | 240 |
| Numerically | C1 | D6 |
See also routes 196, C2, C10

Photo Gallery | Bus route list | Operational details | Service changes | Operators & Garages