Route 401
6 October 2000
Until relatively recently, the route number 401 would have given away its origins as a Country Bus service. Traditionally "Central" Area (i.e. Greater London as we know it today) bus services were numbered 1-300 and painted red, while "Country Buses" routes were numbered 301-400 in the north and 401-500 in the south and painted green. However, since decimation of the network such order has been abandoned, and regular London routes are now numbered anywhere from 1 to 600.
The earliest version of the 401 of which I have a record ran from Sevenoaks, where it met with the 402, 403 and 404, to Dartford, then continuing via Dartford Heath to Bexleyheath and Belvedere, and it survived in this form for many years. The route now linking Sevenoaks, Otford, Shoreham, Eynsford, Farningham and Dartford is very sparse, and the section between Dartford and Bexleyheath has been abandoned apart from isolated school journeys to the Wilmington Grammar School. The section of 401 between Bexleyheath and Belvedere has, however, survived, and more recently has been extended to Thamesmead as that area was developed.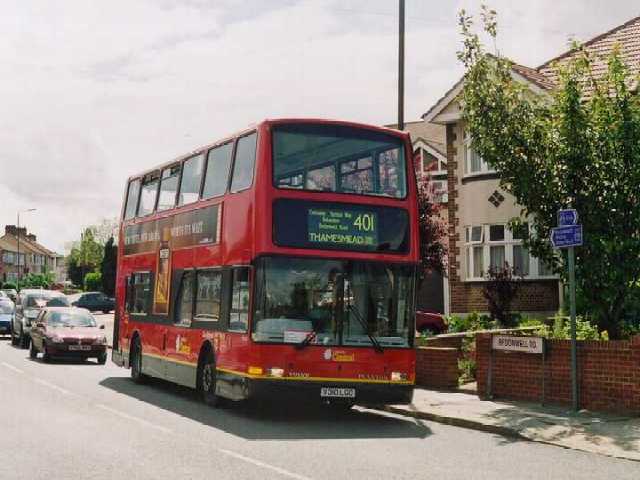 Photo by John Gillespie.
PVL 10 (V310 LGC) seen at Bedonwell Road in Belvedere would, 40 years ago, have been reaching the end of a lengthy journey from Sevenoaks. Now the bus has only just set off from the start at Bexleyheath, for Belvedere, Yarnton Way and Thamesmead.
Forty years ago, of course, would not have seen a low floor bus; this vehicle was only delivered (over a year late!) in spring 2000, having been ordered for the January 1999 Bexleyheath/Woolwich contract renewal scheme. Latterly LCBS had been using SNB class Leyland Nationals on the service. The present Volvo B7TL/Presidents provide a much more refined ride, as well as more capacity for the busy Thamesmead role.
Navigation
| | | |
| --- | --- | --- |
| | Previous | Next |
| Chronologically | N/A | 270 |
| Numerically | 391 | 407 |
See also routes 402, 403, 601

Photo Gallery | Bus route list | Operational details | Service changes | Operators & Garages