Home | Bus routes | Operational details | Service changes | Operators & Garages | Photo gallery
---
Route 601
12 August 2009
Ever since route 401 was transferred from London Country to central buses in 1988 and revised to operate between Thamesmead and Bexleyheath instead of Belvedere and Dartford there has been a need to retain a few cross-Bexleyheath journeys for school children. Two AM and one PM journey extended to Bexley Library, while a further journey ran right through to Dartford Heath, where Wilmington Hall and Wilmington Grammar Schools are located.
Later a further AM journey was added, and in 1997 this was diverted away from the centre of Bexleyheath and renumbered 601. It was operated by London Central from Bexleyheath garage using an Olympian. In January 1999 the 401 was standardised to run to Bexleyheath only, and the 601 was bolstered up to provide 3 journeys in each direction, and tendered and awarded to Arriva using Volvo Citybuses from Dartford. The enhanced service on the 601 also served to replace some schoolday only short working journeys on the 401. Apart from the pre-existing journey, the 601 continued to operate via Bexleyheath town centre initially, although this was later changed so that all morning journeys follow the "avoiding" route. The afternoon journeys were finally altered to match from 23 February 2009.
In January 2004 the route was re-awarded to London Central at Bexleyheath, with the afternoon service being reduced to two journeys. Standard issue London Central Volvo B7TLs were used. The following contract renewal in January 2009 saw the route pass to Selkent – London Central lost a sizeable amount of work at that time. The 601 is now operated from Plumstead garage using early model long wheelbase Dennis Tridents, and 17138 (V138 MEV) picks up a few passengers at Bexley Library on 15 July 2009, running a few minutes early. Surprisingly the bus does not appear to have brought many children from further afield – perhaps the main loadings come from the schools off Gravel Hill, which the bus has yet to reach. On the other hand, it is nearly the end of term, so perhaps things were winding down already.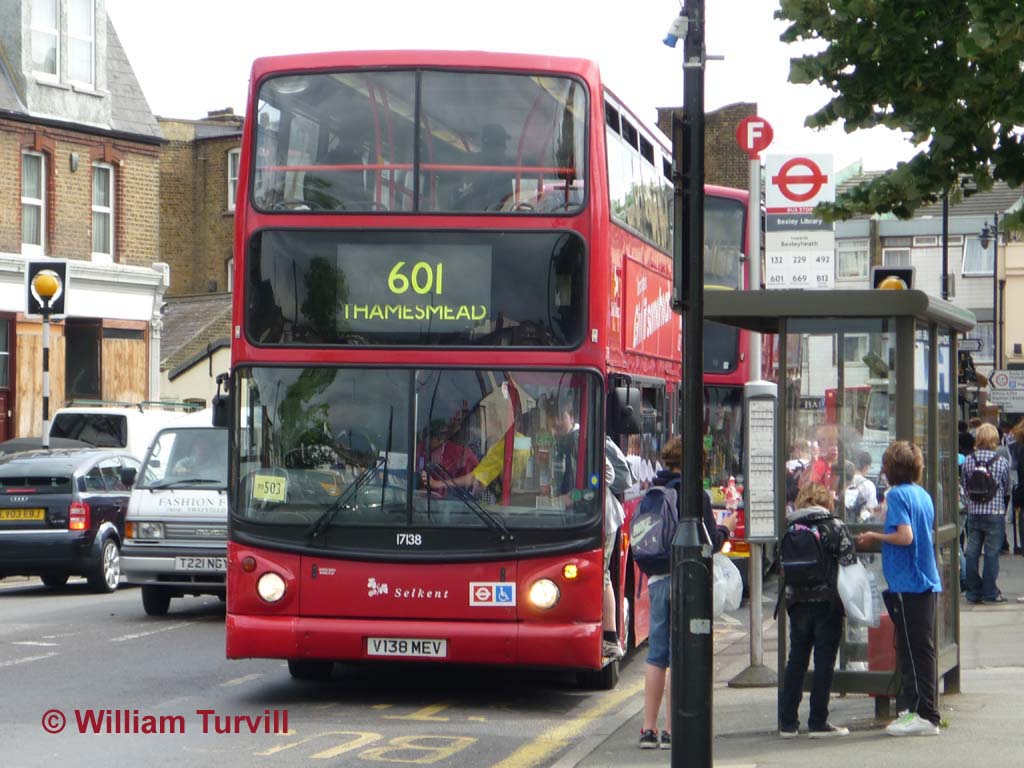 Photo © William Turvill.

Navigation

See also routes 401

Photo Gallery | Bus route list | Operational details | Service changes | Operators & Garages