Home | Bus routes | Operational details | Service changes | Operators & Garages | Photo gallery
---
Route 555
22 April 2014
After some years of upheaval the bus network in North West Surrey seems to be maturing, with a less frequent but simpler network of core routes. Rising cost pressures and falling patronage forced more and more commercial operators to give up, and a large proportion of the county's bus network is now subsidised, placing a huge strain on the council's transport budget.
One corridor that was successfully developed during the 1990s was the Walton - Sunbury - Ashford - Heathrow service, operated by London United in partnership with Surrey County Council and BAA Heathrow, which has always been keen to promote public transport at the airport. Unlike the situation in London, contracted routes in Surrey are operated on a net cost basis with operators given a considerable role in service development. The zenith of the service was in the early 2000s when 4 buses per hour was operated over the core section under route numbers 555, 556 and 557. The 556 has disappeared completely now, while the 557 has developed separately and now has very little in common with the 555. At least the 555 continues to provide a half-hourly service over the main core.
It is worth noting that the 555/6/7 provide the main (indeed now only) "regular" bus link between Heathrow Central and Terminal 4 on the perimeter, although the importance of this role is now dimished as the Heathrow Express provides a faster (and equally free) link between the two. Previously there was only the option of using the Piccadilly Line, and that would have meant changing at Hatton Cross in one direction.
From 2003 the Surrey contract was awarded to Tellings-Golden Miller, which has since morphed into Abellio Surrey. Even though London United had latterly used 10.7m dual door Darts, TGM/Abellio have used shorter 8.8m vehicles; it is not clear why this size was thought appropriate when a frequency reduction was taking place as well. 8092 (KV03 ZFU) stops in Hatton Cross bus station – now subject to a remodelling exercise to make it disabled friendly – on Sunday 13 October 2013. Although the main 555 service terminates at Walton station, on Sundays it is extended to Hersham, covering route 458 which does not run on that day.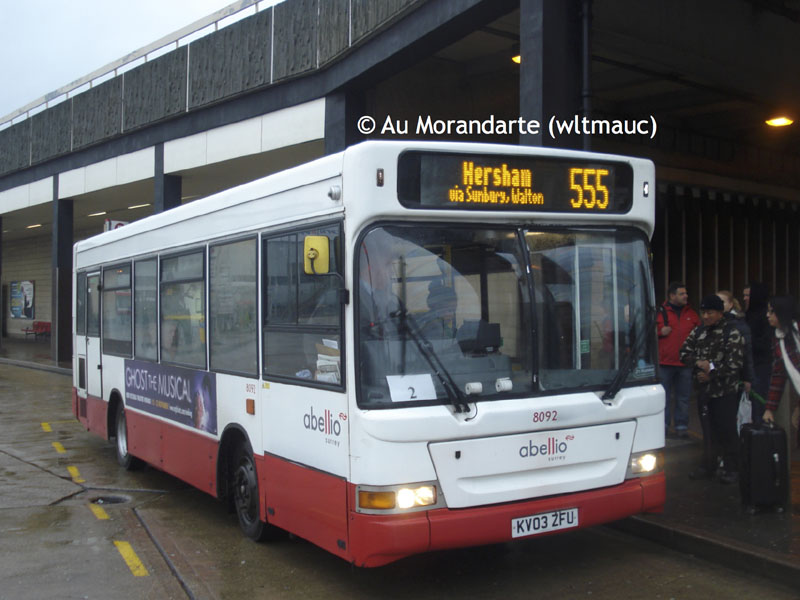 Photo © Au Moran.
Abellio Surrey does have some 10.8m Darts – unusual East Lancs Myllennium bodied vehicles originally owned by Surrey Council for its Ride Pegasus experiment, which attempted to combine school trips with shoppers' services, but ultimately proved unaffordable. One of these, 8772 (LK07 CBF), was seen, again at Hatton Cross and this time showing the more usual destination, on Thursday 24 February 2011.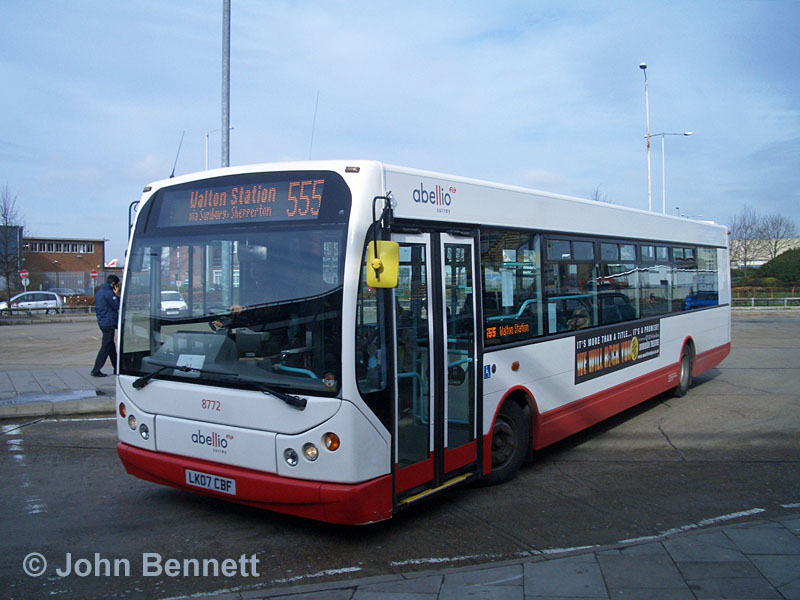 Photo © John Bennett.
The earliest traces of the route go back to the London Country 459 service, which replaced the outer reaches of London Transport route 237 in January 1978. The 459 ran Addlestone - Chertsey - Shepperton - Upper Halliford - Upper Sunbury - Feltham. The 237 had run via Lower Sunbury, but the 459 ran via Upper Halliford replacing LT route 264, which was withdrawn at the same time. However, a 461 variant was added to the 459 in 1980, running via Lower Sunbury.
At some point between 1982 and 1984 the 459/461 were withdrawn and replaced by routes 455 and 456. Feltham was abandoned, but the new routes instead ran from Upper Sunbury via the current 555 to Stanwell, then via Stanwell Village and the Cargo Tunnel to Heathrow Central. At the other end the 455 ran to Chertsey, but the 456 ran to St. Peter's Hospital via Walton Bridge, Weybridge and Addlestone. The 455 ran via Lower Sunbury and the 456 via Upper Halliford.
The routes did not last very long past deregulation, and Surrey County Council took them on in 1987, renumbering them into its 5xx series as was customary at the time. The 556 was curtailed to Walton, and more significantly diverted between Stanwell and Heathrow Central via the recently opened Terminal 4 and the Eastern Perimeter Road. A 557 variant ran from Addlestone via the old 456 to Stanwell then via the 555 into Heathrow. I have not been able to confirm, but I believe this was an evening service and continued to be operated by London Country, whilst the 555/556 were operated by Armchair using Leyland Swifts. (If any reader can confirm or provide additional information, please get in touch!)
Closure of the Cargo Tunnel to general traffic in 1990 for security reasons caused the 555/557 to divert via the eastern side of the airport as well, although the 555 was quickly re-routed via the western side instead, whilst the 557 got curtailed to Weybridge.
In 1993 Walton became the main southern terminus for all three routes, the Chertsey service transferring to a separate route 575. The 555 continued to run via Shepperton, whilst the 556 and 557 at this stage still ran direct via Gaston Bridge Road. Isolated journeys ran beyond Walton to Vicarage Fields or to Weybridge. The tender passed to London United, then still a subsidiary of London Buses, operating from Hounslow garage using a mixture of new and nearly new standard Dennis Darts (DRL class), and latterly these were painted into a slight variation on standard London United livery with a graduated shade of red and route branding.
In 1995 the 556 was diverted via Shepperton, and full evening and Sunday service was added to both routes, together with an extension to Walton-on-Thames station. Thus the evening 557 was withdrawn, but a new 557 provided a daytime service to Chertsey and St. Peter's Hospital, replacing the 575, running otherwise as the 556 (via Upper Halliford and Hatton Cross) to Heathrow Central. All three routes then ran via Shepperton, partially in replacement for loopy local route 567, which was withdrawn. The 557 was upgraded a little in 1996, and further changes in 1997 saw the 555 diverted via Hatton Cross to match the 556/7, Western Perimeter Road now being adequately served by London & Country's revamped (but sadly short-lived) Surrey network. With 2bph on the 555 and 1bph on both 556 and 557, a regular 15 minute service was provided over much of the route between Shepperton and Heathrow Central, the only variations being the 556 via Upper Halliford and the 557 to Chertsey.
In 1998 the 557 was extended from 0900 to 1700 to Addlestone, making it somewhat longer than the others, and a short-lived peak hours extension of the 555/556 from Walton via Rydens Road and Cottimore Lane was taken off.
The inevitable 1999 timetable change was primarily to improve reliability, with extra buses added to the schedule and more running time allowed where needed. That is one bad feature of the routes, that there are no bus priorities anywhere on the routes, aside from a bus-only turn into Sunbury Tesco and a recently introduced bus slip at Heathrow North. The morning peak on Mondays to Fridays is particularly bad, with the running time being increased by around 20 minutes to cope with the extra congestion. At this time also a fleet of new low floor Darts in a blue livery was introduced, being some of the first low floor buses for London United.
Very little occurred between then and the transfer of the routes to TGM in June 2003. The following map summarises the routeings described above.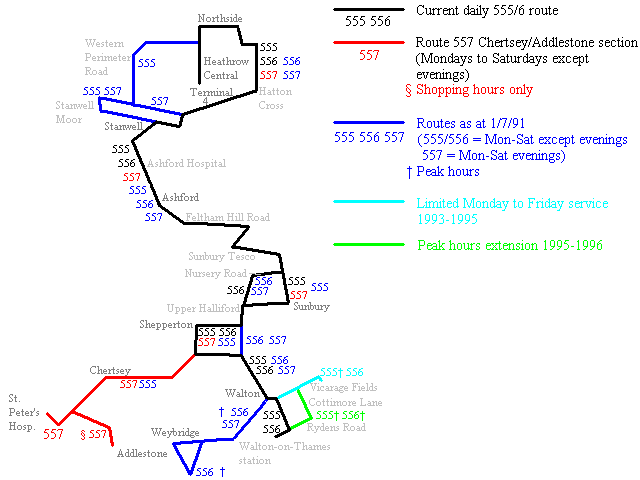 The initial TGM contract saw the 555 reduced to 1bph, but no other major changes, so that a co-ordinated timetable of every 20 minutes was maintained over most of the route between Shepperton and Heathrow. The route did survive a major cull of Sunday services in Surrey around this time; although matters have improved since, it is still one of the most comprehensive services in the County in terms of times of operation, although early and late journeys were withdrawn. Some early morning journeys to Heathrow were quickly re-introduced for shift workers.

On retendering again in 2008, the 556 was withdrawn, the 555 becoming half hourly once again, and the 557 was diverted via Upper Halliford. The 557 was also curtailed to Hatton Cross – with hindsight, missing a golden opportunity to divert the route to Heathrow Terminal 5 which had just opened that year, a development that belatedly occurred in April 2014. The 557 has also been extended to Woking, and seems to gave gained quite a nice little niche for itself in its own right, rather than simply being a variant of the 555!

Navigation

See also routes 556, 557

Photo Gallery | Bus route list | Operational details | Service changes | Operators & Garages