Home | Bus routes | Operational details | Service changes | Operators & Garages | Photo gallery
---
Route C10
22 April 2014
I have finally got round to bringing this page out of retirement after nearly 13 years! If I mention that the last version of the page featured a Mercedes Vario operated by Blue Triangle in a white livery, that should give an indication of how far things have come in London bus provision in the intervening years!
The C10 route itself came into existence in 1991 on the splitting of central London minibus route C1, although what it actually replaced was the Victoria end of Red Arrow route 510 (Victoria – Liverpool Street), additionally providing a new variation via parts of Pimlico. The other part of the C1 became Red Arrow 511, but is now covered by the 211. The C10 thus ran between Victoria and Elephant & Castle via Pimlico. After 5 years of London General operation (first from Victoria Basement, then after closure, Stockwell), the route passed to newcomer Limebourne in 1996; Limebourne later also acquired the 211 and C1, thus neatly tying several threads together!
A new contract was awarded to London Central in 2001, with an improved frequency, and the intention had been to extend the route to London Bridge (recalling a section of the 510 that was abandoned). However, this did not occur. Instead, in 2006, the route was extended via hitherto unserved Long Lane and Abbey Street to Bermondsey, then replacing route 225 to Canada Water. This extension has proved hugely successful, to the point of causing capacity issues that have been hard to solve; several service increases have followed. The contract changed hands yet again in 2011, with the successful bidder this time being Abellio. Larger buses were introduced at this time, made possible by shaving a few tight corners in the Victoria area.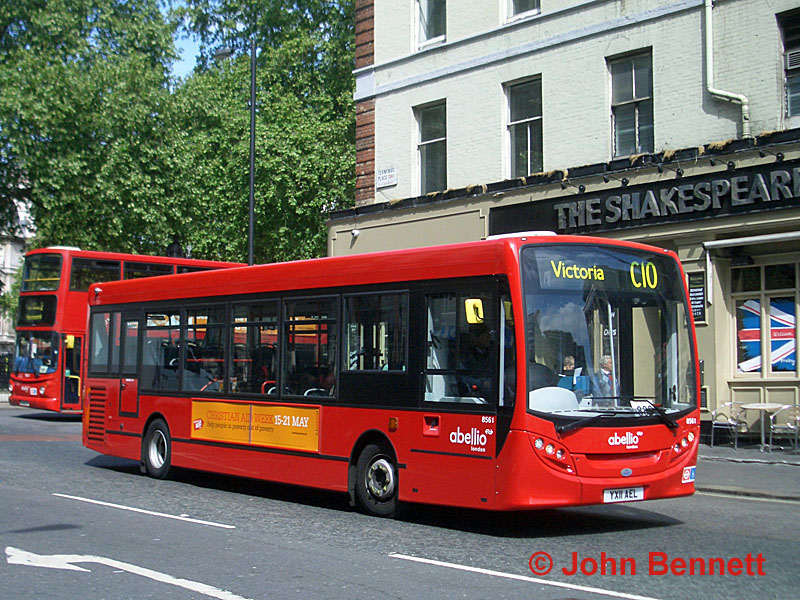 Photo © John Bennett.
Two views are provided: firstly we have 8561 (YX11 AEL) in Terminus Place outside Victoria Station on Tuesday 3 May 2011. The route is actually on a long term diversion at present and not serving this point – this is due to expansion work at Victoria Underground station. Secondly, we see 8562 (YX11 AEM) at Elephant & Castle on 15 August 2011 – the stop is "London College of Communication" in St. George's Road.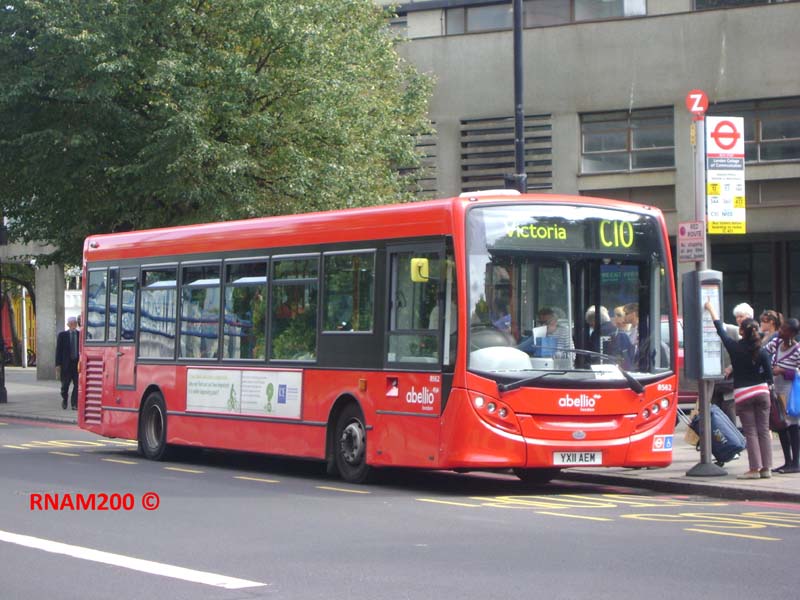 Photo © RNAM200 (Robert Mighton).
In my summary of operators in the second and third paragraphs I did not include the operation by Blue Triangle – a pretty odd one by all accounts, its base being in the depths of East London. So what was all that about?
A bit of background is perhaps warranted in this instance. The vast majority of bus routes in London are operated on contracts to Transport for London (London Transport as was). At that time, they were for a fixed term, usually of 5 years, or occasionally 3 or 7 (a new type of contract had just been introduced that included an automatic two-year bonus extension for good performance). However, contracts contain provision that either party can terminate the contract up to two years ahead of the normal finish date without giving any reasons.
This clause is rarely instigated. One well-known example was the 60, the contract for which was won by Capital Logistics which then got itself into a right mess. Arriva London South agreed to take it over, on condition that it would be re-tendered at the earliest stage. Conceivably operators could use the provision to give up on under-performing contracts, but then London Buses could penalise them by taking away their more profitable routes.
However there is no converse catch if London Buses wants to take a route off an operator, and this was applied in this instance. Limebourne had built itself an unfortunate reputation for poor service, and languished at the bottom of the league tables for London bus operators. Concerned about the continuing poor performance at Limebourne, London Buses terminated Limebourne's contract for the C10, and issued a new short-term contract to Blue Triangle starting from 7 April 2001. A rather strongly worded press release was issued, drawing attention to the unsatisfactory performance, and hoping that performance on Limebourne's other routes would improve – although whether as a result of Limebourne being under the threat of losing more routes, or simply by being able to concentrate its resources better with a route less, was not specified. However, the contract by then had only a few months to run anyway.
Blue Triangle had made quite a name for itself by stepping in at short notice to run routes where the present operator had got into difficulties in one way or another. It had a large fleet of Metrobuses (double deck) and a smaller fleet of Leyland Lynx (single deck), the only regular scheduled work for any of which being the one-bus 565. But for the C10 neither of these was considered suitable, primarily due to length considerations, so a batch of Mercedes Varios was instead obtained on loan. This included one that had recently been on long-term loan to Stagecoach Selkent at Plumstead, and the buses were painted into a mixture of blue and white liveries. And that was how white V258 BNV came to be turning into John Islip Street, near the Tate Gallery, on 25 April 2001 on its way to Elephant & Castle: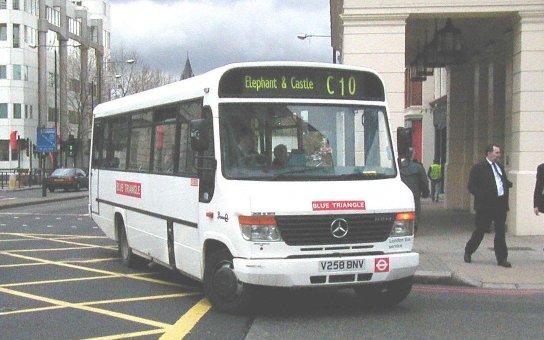 Photo by Cameron Clark.
The route involved made this incident all the more significant, since it was the route that started Limebourne. London Buslines and the Berks Bucks Bus Company (Beeline) were sold to CentreWest – itself having since sold out to FirstGroup – on 20 March 1996, but pending at that time was the take-up of the C10. It was decided that, rather than operate from Buslines' distant Southall depot, the route would be operated by Limebourne Coaches, the one part of the Q-Drive group that had not been sold to CentreWest and which was conveniently based nearby in Battersea. 6 Optare Metroriders (N201-6 MWW) were duly delivered to Limebourne for the takeup in May of that year.
Meanwhile 1996 saw a new edict emanating from then transport minister Steve Norris that all buses entering Zone 1 should be painted 80% red. This rule was to be effective in all new route contracts from then on; although it was not retrospective, in practice all buses entering the centre came to comply within a few years, even in the handful of cases where this was not yet a formal requirement. Thus the C10 – which ran through the central zone in its entirety – found itself the first with red buses specified in the contract, and the Metroriders were delivered in red with a beige skirt and green trim. It is therefore a tad ironic that come 2001 the C10 was the only route in central London that did not have red buses (if one overlooks the occasional yellow forays into the city by First Capital on routes such as the 25)!
The Metroriders had long gone however, since, at the end of 1998, Q-Drive (comprising Limebourne and Scancoaches) came into receivership, as a result of losses on the coaching side. The bus operation of Limebourne, which had by then expanded considerably, was salvaged by management, but all its buses had been repossessed. A batch of second hand Dennis Darts was sourced from Metroline and became the staple on the C3 and C10.
Navigation
| | | |
| --- | --- | --- |
| | Previous | Next |
| Chronologically | 555 | 10 |
| Numerically | C3 | D6 |
See also routes C1, 211, 225, 60, C3

Photo Gallery | Bus route list | Operational details | Service changes | Operators & Garages