Home | Bus routes | Operational details | Service changes | Operators & Garages | Photo gallery
---
Route 444
7 May 2010
The 444 is one of the few routes to cross the Lee Valley, thus connecting north east and north west London. It does so via the North Circular Road at Edmonton, joining the 34 for a short stretch, but whereas the 34 runs from SE to NW the 444 runs from NE to SW. Surprisingly, in a way, it is not all that busy, with a 15 minute daytime service using single deck buses that rarely seem to be crowded.
Following delivery of new buses to route 184, the DWL class buses on that route were moved across to the 444. DWL12 (LJ51 DDV) has since moved on again, but represents the type accurately. It is seen at Turnpike Lane station bus station in May 2007, setting off for Chingford. The route actually misses out most of the shopping area in Wood Green, arriving via Westbury Road to terminate at Turnpike Lane station.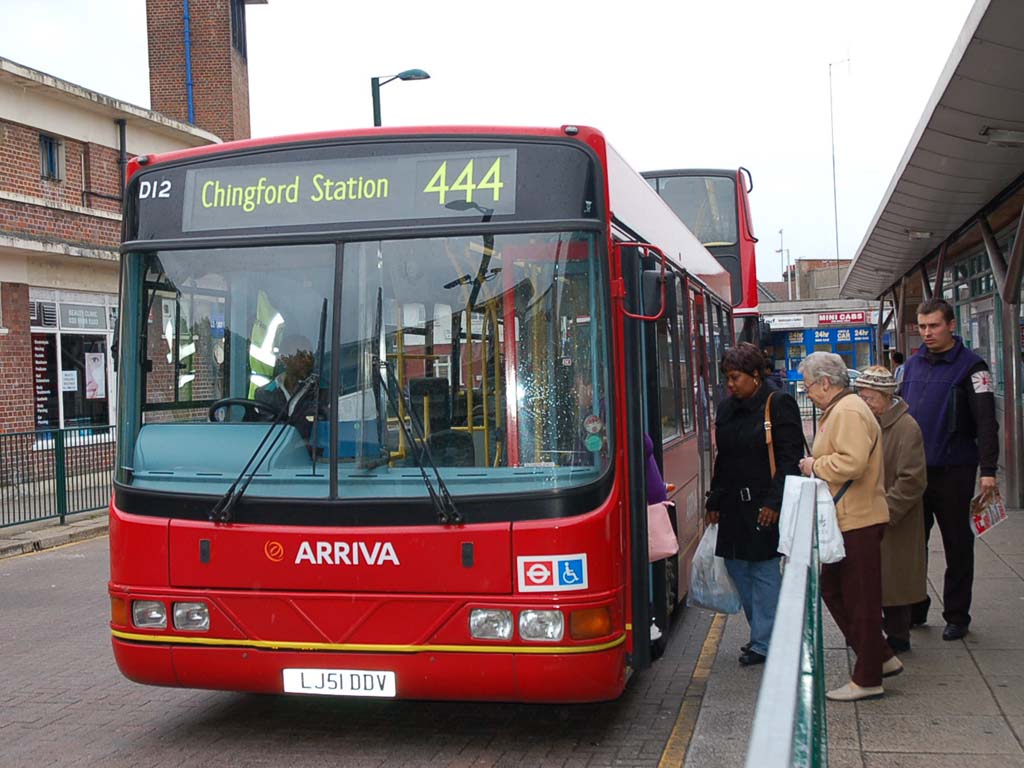 Photo © Ian Armstrong.
DWL44 (LF52 UTB), meanwhile, is one of the batch now formally allocated to the 444. It is seen at the other end of the route, Chingford station forecourt, carrying allover unrelieved red, to which Arriva London seems to have succumbed after going through several variations of its livery with increasing proportions of red.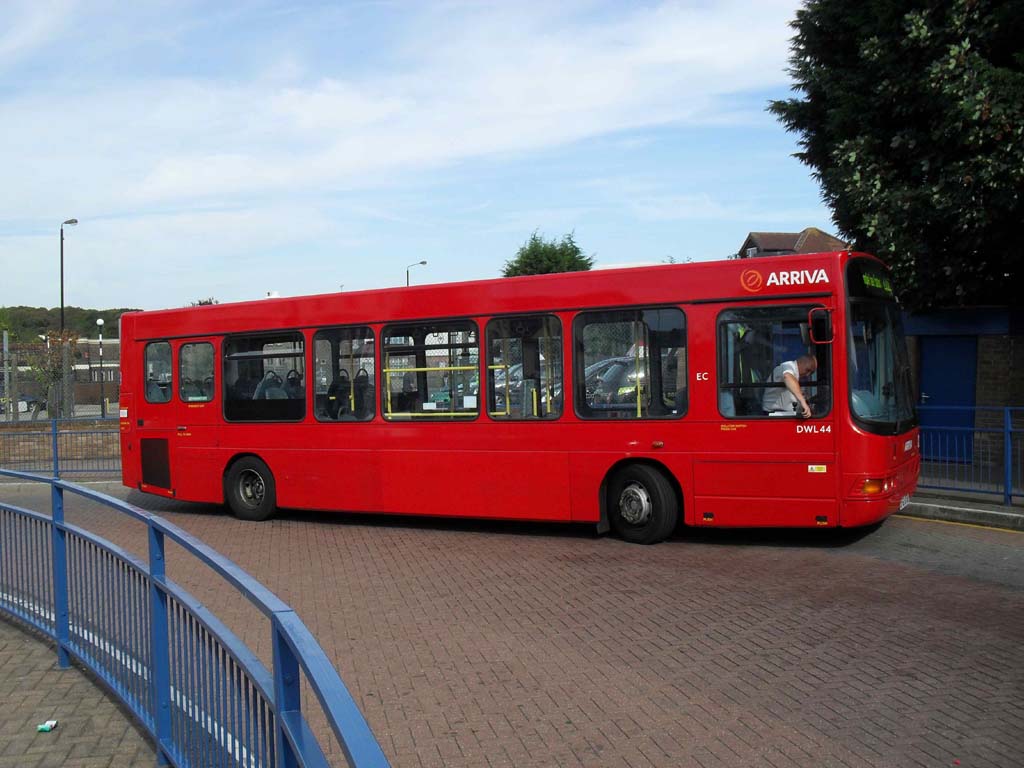 Photo © Suzy Scott.
Finally PDL75 (LF52 UOL) is an interloper, but probably a fairly regular occurrence as Edmonton garage is home to a large number of the type. It is a short (8.8m) Dart SLF/Plaxton Pointer 2, and was also photographed at Chingford, both photos being on 24 September 2009.
Photo © Suzy Scott.

In 1938 a new route was started in the Ilford series as route 144, from Ilford via Woodford Avenue and the North Circular Road to the foot of Muswell Hill. Together with the 144A and 144B this was really just a more elaborate version of the former 124/124A/124B serving Westbury Avenue and then either the North Circular Road or Great Cambridge Road; the 144A and 144B subsequently became the 217 and 231.

Although cut back to Turnpike Lane in the 1940s, the 144 itself was eventually restored to Muswell Hill in 1976, and indeed climbed up to the Broadway for the first time. Then, on 4 September 1982, new route 144A was started (no relation to the previous one), running from Muswell Hill to Edmonton Green via Wood Green shopping centre and Silver Street. As a result the 144 was withdrawn west of Turnpike Lane Station, except on Sundays when the 144A did not run. In 1987 the 144 strangely lost its evening service, except on Sundays between Edmonton and Muswell Hill (when the 144A did not run either).

The alignment between Chingford and Edmonton first saw the light of day as route 102, the 102 then carrying on to Muswell Hill much as it does today. However, in 1989 the 144 was withdrawn completely and without replacement east of Edmonton, and diverted over the 102 route to Chingford. The 102 was diverted to Edmonton green instead, but the non-standard arrangements at the Muswell Hill end of the 144/144A remained until the end.

By the 1990s, the 144A had proved itself to be much the more useful and busier of the two routes, so phase one of a plan to give it a more appropriate status saw the 144 renumbered 444 on 16 November 1991. The 144A became a daily operation, meaning the 444 ventured no further than Turnpike Lane. The 144A soon lost its suffix, but that is another story. Thus the present day 444 is an amalgamation of parts of former routes 102 and 144.

Initially the 444 was run by County Bus using standard floor Dennis Darts. Later County Bus was purchased by the Cowie Group, which also owned neighbouring company Leaside, and after a while the County Bus operation based at Edmonton became the responsibility of Leaside, or Arriva London North as it has now become. The 444 continues to operate from that base in Edmonton, just off the line of route in the Lea Valley Trading Estate just off the North Circular Road.

Navigation

See also routes 34, 102, 144, 217, 231

Photo Gallery | Bus route list | Operational details | Service changes | Operators & Garages