Home | Bus routes | Operational details | Service changes | Operators & Garages | Photo gallery
---
Route 156
7 May 2010
Out of only three routes that Limebourne won in its own right, the 156 was the second, being taken towards the end of 1997. 9 Plaxton bodied Dennis Darts were purchased, joining the 8 already in situ for the 42, although the batches were largely kept separate. However, the buses, which were leased, were repossessed when the company came into administrative receivership at the turn of 1998/99. The bus operations were rescued by management, and initially a variety of buses were hired, including some unusual single deck East Lancs bodied Volvo B10Ms that had just come off route 210 at Grey Green and which were mostly used on the 42 and 156. To replace the various hires, 17 Dennis Dart SLFs were ordered for the 42 and 156, whose contracts specified low floor buses, although in the event these became amalgamated with a further 17 for newly won route 344.
However, major changes have taken place since then. On 7 July 2001 Limebourne was bought out by Connex Bus, and Connex in turn sold the complete London bus business to National Express on 26 February 2004, which in re-branded the business Travel London. Following well-documented financial difficulties of the group, National Express sold its London operation to NedRailways on 9 June 2009, which re-branded itself as Abellio from 30 October that year.
The 156, and its Battersea base, have stayed with the company throughout that period. However, the route itself has had major changes since the previous version of this page, which featured a Caetano Dart in Limebourne red and green! The route gained a major extension from Clapham Junction to Vauxhall via Battersea Park, opening up new links along Queenstown Road additional to its traditional north-south 137. This new section required double deckers, and Tridents were obtained. A new contract has seen those replaced by Enviro400s, and 9488 (LJ09 OKX) is one of the large fleet of the type now resident at Battersea garage, which has been radically expanded since Limebourne days and could now take almost 300 buses. The bus was photographed at Vauxhall on 20 October 2009, prior to the application of Abellio logos.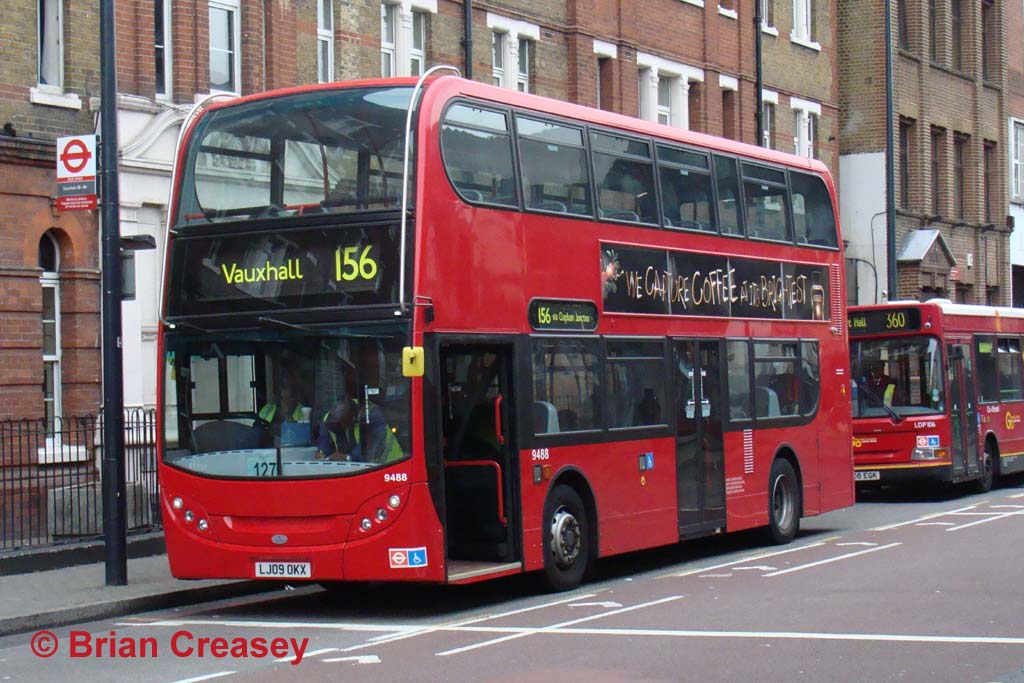 Photo © Brian Creasey.

Prior to the Vauxhall extension, the 156 route itself is essentially the former southern leg of trunk route 77A, at one time Raynes Park – King's Cross. Initially it retained a rather longer chunk of its parent route, running from Raynes Park to Clapham Junction with peak journeys as far as Vauxhall. The 1991 Wandsworth scheme saw it cut back to run between Wimbledon and Clapham Junction, the section between Raynes Park and Wimbledon being left to the 163. This part of the route is largely unique and consitutues the main service to the Southfields area; the proximity of the Wimbledon branch of the District Line presumably accounts for the surprisingly low patronage despite the lack of other bus competition. The Vauxhall extension was introduced in September 2002, to provide extra capacity in advance of the introduction of congestion charging in central London.

Navigation

See also routes 42, 210, 344, 137, 87, 163

Photo Gallery | Bus route list | Operational details | Service changes | Operators & Garages