Home | Bus routes | Operational details | Service changes | Operators & Garages | Photo gallery
---
Route 607
30 October 2013
Express services have not generally been too favoured in London, but one that has survived for a while is the 607 covering the length of the Uxbridge Road in West London, providing a speedier alternative to the main 207 service. This corridor, from Shepherd's Bush through Acton, Ealing, Hanwell, Southall and Hayes End to Uxbridge, has been the focus of much experimental work on bus priority measures over the years. Features such as "bus gates" which hold up other traffic at bottlenecks to allow buses a free run, and traffic light transponders to detect the approach of a bus and hold or change the signals as quickly as possible, were extensively tried, tested and developed here, as well as some of the first bus lane police cameras to trap offenders. As if that was not good enough, trams have been seriously considered for a return on this route!
Much of this work has been successful; although traffic congestion still delays buses considerably, the buses on the express at least can almost keep up with other traffic, losing at the bus stops but then gaining again in between. Unfortunately this was spoilt a few years ago when a lot of extra running time was added to the schedule which wasn't needed, and caused buses to have to drive slowly to keep to time, rather defeating the object of an express service! Timings have been tightened up again, and overall journey times are a little over an hour for 15 miles, which is considerably better than the average London bus speed of 10 mph.
Nevertheless, there are still bottlenecks, mostly around the shopping centres at Acton, Ealing and Southall. Uxbridge is not a problem because buses can divert round the back of the shopping centre via Chippendale Waye in order to set down at the station in the centre of town; indeed, this is where the 607 gains the largest single advantage over the 207, which skirts all round the other three sides of the shopping centre.
The 607 had been worked by a motley collection of Leyland Lynxes and National 2s fitted with coach seats, as well as one of two prototype National Greenway modernisations obtained by London Transport. These tended to be rather crowded, so a return to double deck operation using new Volvo Olympians in 1996 was welcome, even if the seats were not quite so luxurious. Apart from the new vehicles, the frequency was improved from 4 to 5 an hour. A further increase to 6 buses per hour followed in April 2002, providing a true turn-up-and-go service, and utilising some Olympians made redundant from the 61 by new low floor vehicles.
A new contract commencing on 9 April 2005 resulted in low floor Tridents being cascaded from route 207 – the 207 being converted to articulated single deckers from the same date, perhaps as a foretaste of the trams Ken Livingstone wanted to run on the route. These saw an end to specially liveried buses on the route, but buses can still be distinguised by their white on blue destination blinds.
A further new contract commenced in April 2012, but it still seems that the route is not good enough to deserve new buses, and the Tridents were simply replaced by newer buses cascaded from other routes. I have already illustrated these, but the transfer of First's London operations to Metroline in June calls for a further update. There is a mixture of two types in place, and first we illustrate the Trident/Enviro400 combination with TE1572 (LK08 FMA), formerly First DN33509.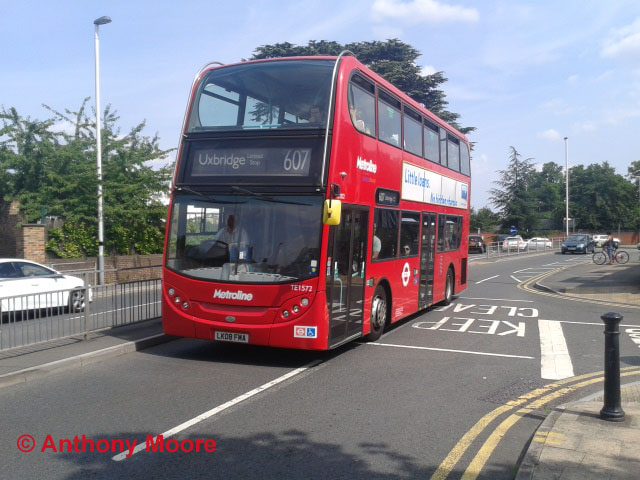 Photo © Anthony Moore.
The other type is the Volvo B7TL/Eclipse Gemini, and this class is represented by VW1569 (LK55 AAZ), formerly VNW32667, complete with a less than normal sight in the form of Guy Special/ECW GS13 MXX 313 dating from 1953. Both photographs are in Chippendale Waye, Uxbridge, on 14 July 2013. Although older (and an older design) than the Enviro400s, the Gemini styling seems more modern to my eye.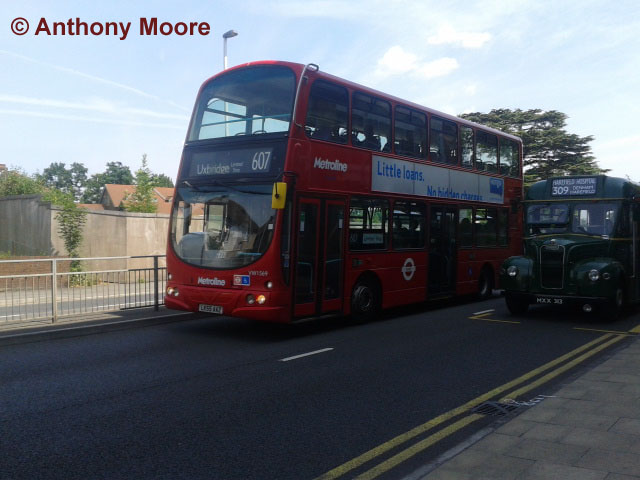 Photo © Anthony Moore.

Navigation

See also routes 207, N207, 61

Photo Gallery | Bus route list | Operational details | Service changes | Operators & Garages