Home | Bus routes | Operational details | Service changes | Operators & Garages | Photo gallery
---
Route 320
16 November 2010
There is only one main bus service to Biggin Hill, and that is the 320. Biggin Hill used to be little more than a large village on the road to Westerham, and was served by Country Buses' 410 (Reigate to Bromley via Westerham). Biggin Hill's main claim to fame now is the Airport there, which is mainly used by private owners and also hosts the annual air show. During the Second World War, the 410 had to have special precautions on the section past the airport – read all about it on the 1943 Greater London Bus Map by Mike Harris!
However, substantial housing development in Biggin Hill in the late 1960s and early 1970s was going to require an improvement to local bus service provision. Much of this development was in the valley area to the west of the Main Road, and initally the 410 was diverted to double run down and up Stock Hill and as far as Rosehill Road.
In 1987, as part of a new (but short-lived) local Sevenoaks network, Kentish Bus (the former London Country South East) launched route 20 between Bromley and Biggin Hill Valley, with a few journeys to Dunton Green garage. Bromley is the nearest major shopping area and railhead, although more recently links to Orpington and Croydon have also been developed. Rationalisation of the network and withdrawal of route 23 (formerly 483) resulted in a more regular service to Sevenoaks, and then in 1990 the 20 was itself withdrawn as was the London section of the 410.
New route 320 was introduced by London Regional Transport, operating between Westerham and Bromley. London & Country won the contract, with a small fleet of Volvo Citybuses, strangely outstationed at Kentish Bus's Dunton Green garage. Indeed Kentish Bus operated the Sunday 320, which ran only between Biggin Hill and Bromley and was interworked with its own 402.
The two companies subsequently came back under common ownership within the British Bus group. British Bus itself was bought out by the Cowie Group in 1996, which soon set about rationalising services. The small operation at Dunton Green was closed down, a deal being struck with Selkent to swap its 227 and 320 routes, together with the 162, for two of Selkent's routes in the Croydon area from November 1997. The Croydon routes (166, 198) would instead be worked from the Croydon and Thornton Heath garages of sister Cowie company South London.
However, this did lead to the replacement of the supremely suitable Volvo Citybuses on the 320 with clapped out Selkent Titans, which also had the disadvantage of not having engines well suited to climbing Westerham Hill. Volvo Olympians were used when possible, but in any case the route was lost on re-tender from 19 September 1998 to Metrobus, which bought a full allocation of new Olympians – amongst the last step entrance buses to enter service in London.
At the same time, the 320 service structure was standardised with buses running only between Biggin Hill Valley and Bromley. Services to the south end of Biggin Hill and the link to Westerham were maintained by a new commercial route by Metrobus, the 246. The 246 ran out to Edenbridge, and was later extended to East Grinstead, firmly reverting this section to its country bus form – even if in a different direction – although it has subsequently been retracted back to Westerham again, and even became a TfL contract.
Contract renewal in 2003 resulted in new low floor, wheelchair accessible, buses being required, and a batch of East Lancs Omnidekkas on Scania chassis was obtained. In practice these have become mixed with earlier and later batches, but 465 (YN03 DFU) is actually from the original route 320 batch, having recently been repatriated from Croydon garage. It was seen at Bromley, Market Square, on 28 August 2010. The bus has been refurbished for the new contract starting that day; note the new Metrobus 'Blue Moon' seat moquette which can be made out upstairs.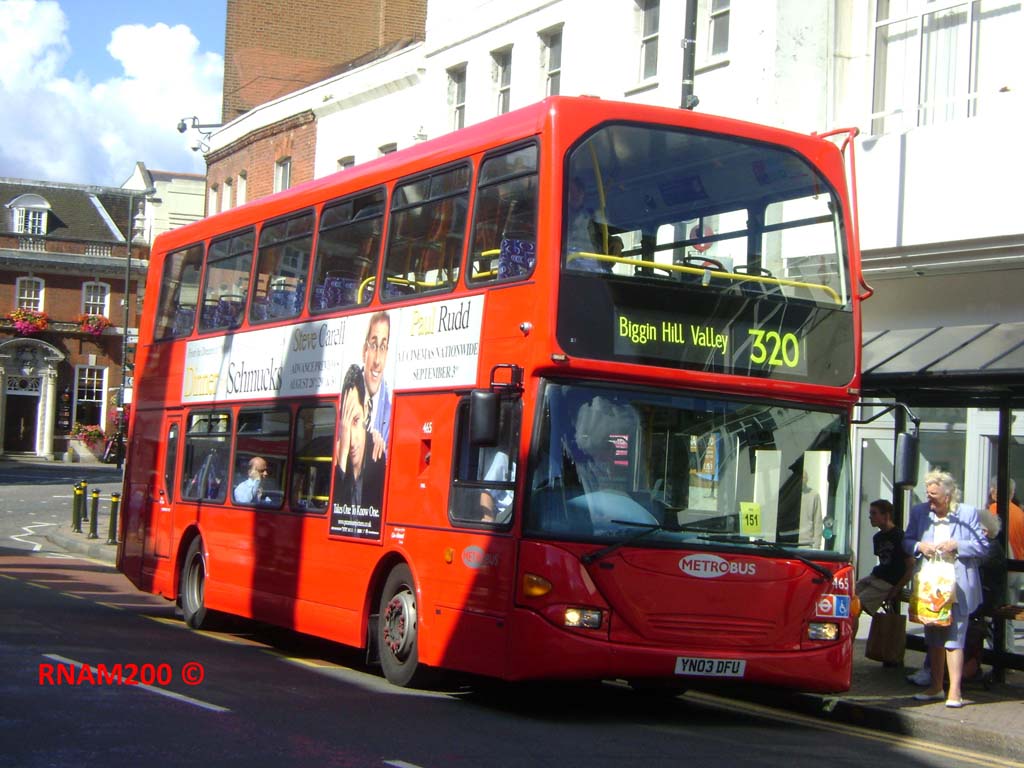 Photo © RNAM200.
The location gives a clue to a further service change, as buses to and from Bromley North do not serve this point! In fact, the day the picture was made was the first day of a substantial extension of the route, to Catford. Unfortunately, on the first day the iBus system was announcing '320 to Biggin Hill Valley' in both directions – not creating a good impression for passengers going towards Catford, especially as it took a couple of weeks to get fixed! The purpose of the extension was to allow route 208 to cease having scheduled short workings. Previously the 208 had run in overlapping sections during the daytime on Mondays to Saturdays, with no through service, by several years the last route to operate this once-common practice. The 320 supplements the busiest Bromley – Catford section, meaning the 208 can now run as a normal through service.
To cover the extension, as well as a further frequency increase that occurred at the same time, Metrobus acquired some new OmniCity double deckers. Seen displaying the new destination of Catford is 974 (YR10 BCE) passing the back of the Glades in Elmfield Road on the same day. Buses are usually lightly patronised at this point as most passengers from the south get off at the previous stop and passengers heading north get on later, but no doubt passenger unfamiliarity with the new service pattern is a contributory factor in this case!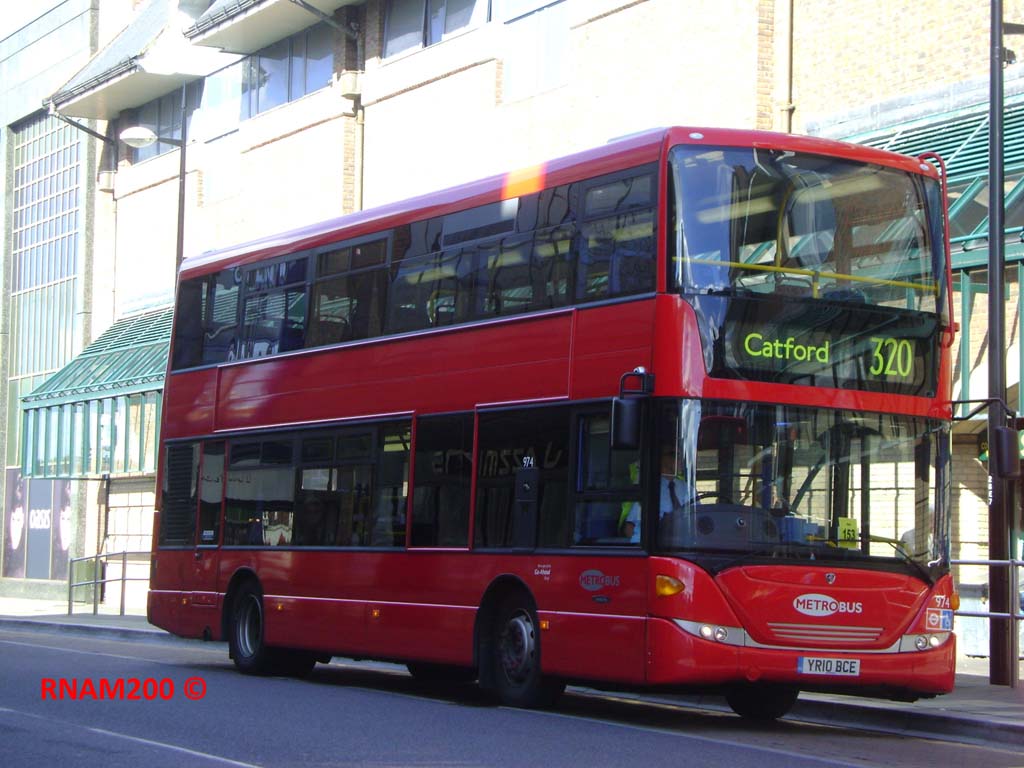 Photo © RNAM200.
It is very unusual for Metrobus to operate mixed type allocations on any route, although other companies do so quite a bit. In fact, apart from a mixed allocation on some R routes while non-standard acquired vehicles are phased out, I believe this may be the first example of this happening by design at Metrobus, other than the scheduled interworking at peak times of Olympian double deckers and Lynx single deckers on Croydon area commercial routes in the 1990s, and a handful of other special workings – which are not quite the same as having an all day mixed type allocation.
It is all the more surprising given that the older buses in use, the OmniDekkas, are of low height design – TfL have previously indicated that these buses would not be acceptable on new contracts, but perhaps with budgets being squeezed it is now taking a more pragmatic view. There is in practice little need for buses to be "full height" (i.e. 14'6" or so) now that they are all low floor, and headroom is adequate for the vast majority of passengers on the low height design.
Replacing the short workings on the 208 with an extension of the 320 means a new section of route can now be served. The 208s that terminated in Catford performed a lengthy loop out of service, from Rushey Green via Wildfell Road, Brookdale Road, Holbeach Road, Thomas Lane (stand), Catford Road, Rushey Green, Brownhill Road, Plassy Road and Sangley Road to pick up in Bromley Road. All this could easily take 10 minutes, by which time the bus would nearly have been at Lewisham station, the normal destination, anyway!
The 320 does something similar, but as it is a separate route can now perform this loop in service. The initial plan was to use Bradgate Road in both directions to improve access from the town centre on southbound journeys, but this proposal ran into difficulties. In fact, the routeing has in some respects been worsened, as northbound buses now turn straight into Catford Road to set down in Doggett Road, then proceeding via Holbeach Road to Thomas Lane to stand and pick up. This means the set down point for arriving buses is less convenient for most parts of Catford town centre. They then get back to Bromley Road just as before, albeit in service – at least the new boarding point in Thomas Lane is useful for the shopping centre. Buses also pick up outside the Lewisham Town Hall, as evidenced in this photograph of 978 (YR10 BCU) on 25 September 2010.
Photo © Taelin-Jorda Lambert.

Navigation

See also routes 402, 227, 162, 166, 198, 246

Photo Gallery | Bus route list | Operational details | Service changes | Operators & Garages