Home | Bus routes | Operational details | Service changes | Operators & Garages | Photo gallery
---
Route 674
16 November 2010
School route 674 was taken over by Go-Ahead London from its Rainham-based Blue Triangle subsidiary, starting on 16 October 2010. Previously the route was run by East London from Romford garage. Volvo B7TLs transferred in from the sister London Central/General operations are used, PVL67 (W467 WGH) having previously been at Merton garage. It was seen on 12 November 2010 at Hilldene Avenue Shopping Centre in Harold Hill.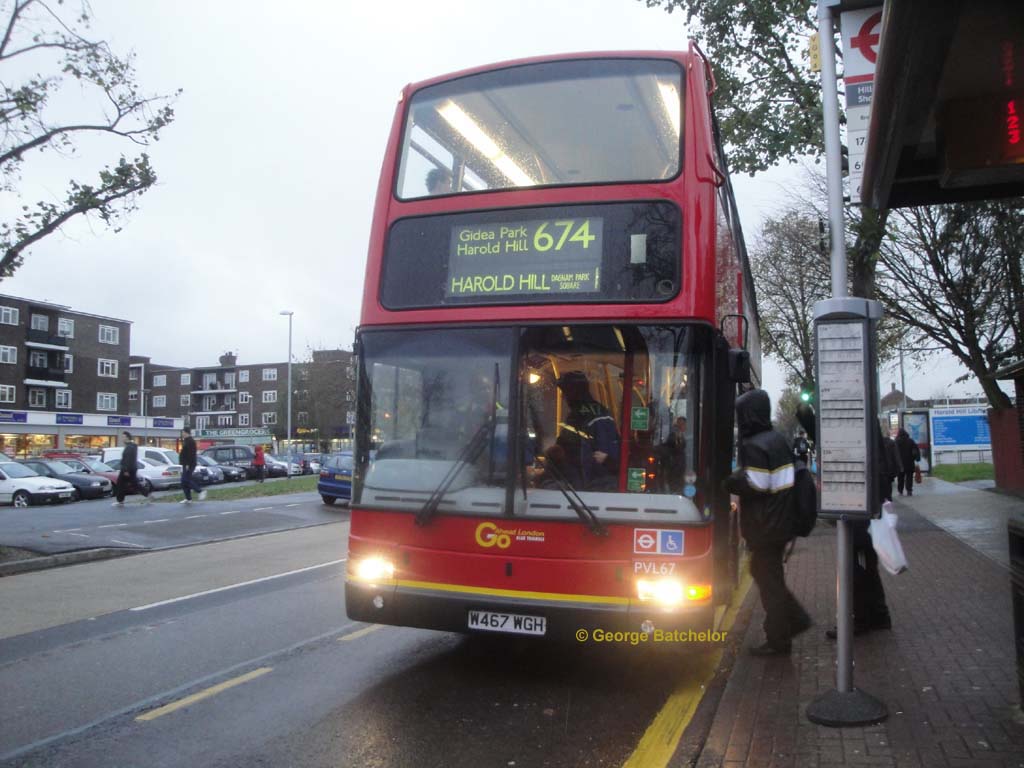 Photo © George Batchelor.
By current London standards this bus is now quite old, dating from 2000, though it has been refurbished for the contract, along with sister vehicles PVL66 and 68 – the three are used on the 150 extra and the 673, which were taken over at the same time from sister company Docklands Buses. Such old buses would not generally be accepted for a new contract – many are not compliant with the Disability Discrimination Act and cannot be used beyond 2017, although the 674 contract expires in 2015 so this will not be a problem. Of course, they are perfectly serviceable and could probably run for years were it not for the DDA; the low mileage these buses will perform on school duties makes it hard to justify the extra cost of running something newer.
The Romford area is something of a hotbed of school bus activity, though most of the routes are designed to serve specific schools in the east of the Havering borough, many of which are rather off the beaten track. The 674 is however an exception, running into central Romford in the morning and returning in the afternoon. There are no schools in Romford itself, but the 674 does pass a couple of schools on its way, and running on into Romford is presumably mainly for the benefit of ordinary passengers. The initial section from Dagnam Park Square follows the 174 to Gidea Park, then route 496 into Romford.
Navigation
Photo Gallery | Bus route list | Operational details | Service changes | Operators & Garages