Home | Bus routes | Operational details | Service changes | Operators & Garages | Photo gallery
---
Route 646
6 July 2010
School routes are always a little hard to track down, so I am pleased to be able to feature one from north east London, hopefully the first of several. The borough of Havering is a hotbed of schools activity, with several routes criss-crossing the east of the borough, with no fewer than 18 buses dedicated to this activity, as well as a few extra schoolday trips on regular daytime services.
Most school routes are double deck, but the 646 is one exception, as it passes under the low bridge in St. Mary's Lane, Cranham, a feature shared with routes 346, 347 and 648. To the best of my knowledge the official allocation is 10.2m long Marshall Capital bodied Darts, but we have ended up with one bus of the right length and one of the right bodywork, but not the two put together! The first shot is the Capital body on a shorter (9.4m) Dart SLF, one of a batch intended for route D8 – and thereby illustrating the wide geographical are covered by First London's Dagenham garage, which operates both routes. It is DM41272 (T272 JLD), part of a large batch originally bought for trunk routes 28/31/328 in West London. It was seen in Hilldene Avenue, Harold Hill, on Monday 24 May 2010.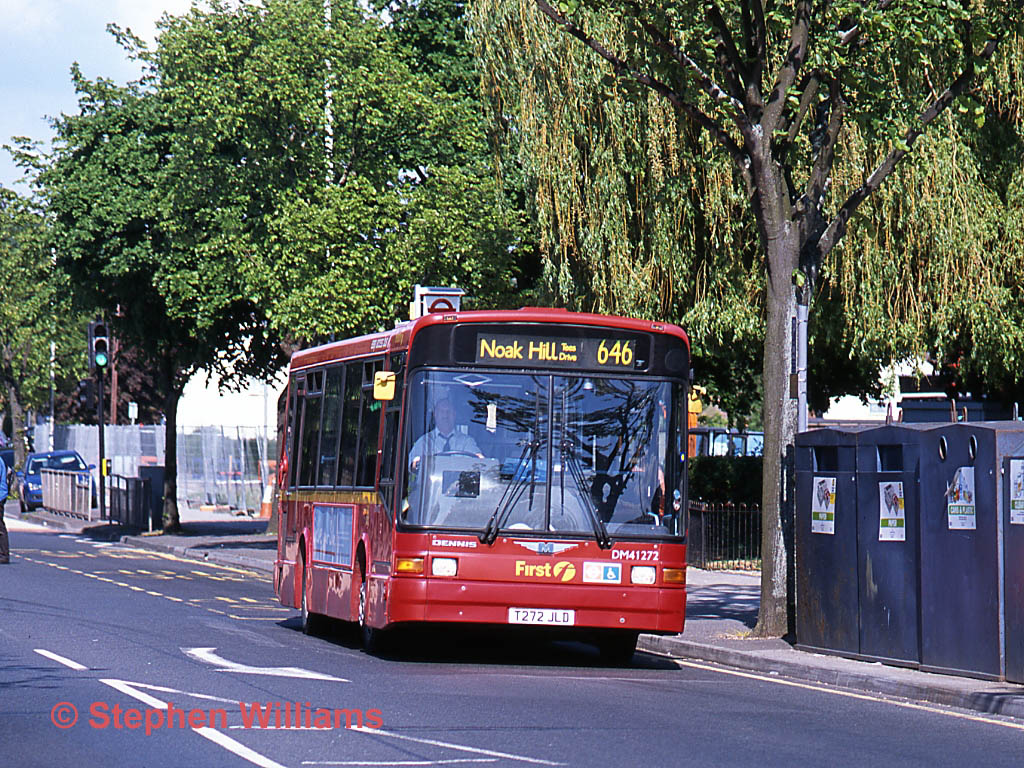 Photo © Stephen Williams.
The second photograph was taken not far away in the leafy avenues of Noak Hill on 23 April 2010, just turning from Whitchurch Road to Tees Drive on the one-way loop working used by a number of bus routes to turn around. The 646 does not need to turn around as such, as it just provides isolated journeys with buses arriving and departing out of service to the garage, but follows the same routeing for simplicity. The bus is DML44081 (YX58 HVL), an Enviro200Dart for the 165. The correct bus would also have been a DML, the classification confusingly being used both for Marshall Capital bodied Dart SLFs and Enviro200Darts, in both cases of the 10.2m length.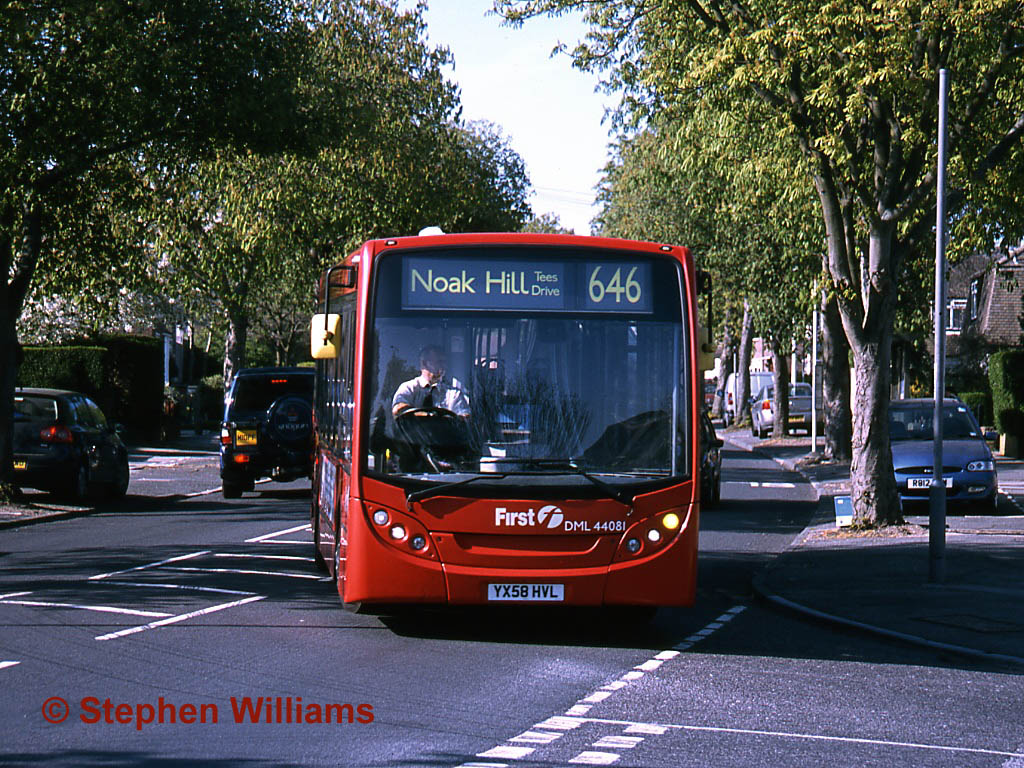 Photo © Stephen Williams.
The 646 is basically a renumbering of the old 246 route, which latterly ran in peak hours only between Harold Hill and Corbets Tey. Certain journeys, no doubt those used by school children, operated via Noak Hill and/or to Cranham, with one journey running on farther to Upminster Park Estate. The 246 journeys via Noak Hill still started in Harold Hill at the main roundabout, but when it began in 1996 the 646 started its journeys from Noak Hill, with some operating to Harold Hill via both arms covered by the 246. The more direct routeing via North Hill Drive was later dropped. The 246 also had a short-lived extension to Mawney Road via Collier Row before withdrawal. The 246 was double deck, with special low-height bodied buses being used to pass safely under the bridge in Cranham.
The 246 and 646 have been operated continuously by First Capital and its predecessors (Capital Citybus, Ensign Citybus and Ensignbus) since 23 September 1988, and is probably one of the last few routes going back to those early days of tendering with such a continuous record (if you disregard the change of route number!). Prior to that, the 246 was more of a trunk service, with a daily service between Harold Wood station and Upminster Park Estate. Introduction of route 256 in 1988 (deviating off to St. George's Hospital, Hornchurch) took away its main reason for existence, such that it was reduced to a peak only service.
Navigation
| | | |
| --- | --- | --- |
| | Previous | Next |
| Chronologically | 8 | C1 |
| Numerically | 640 | 651 |
See also routes 346, 347, 648, D8, 28, 31, 328, 165

Photo Gallery | Bus route list | Operational details | Service changes | Operators & Garages