Home | Bus routes | Operational details | Service changes | Operators & Garages | Photo gallery
---
Route E9
6 July 2010
Although the E-line network started as a network focused on Ealing, it might now be more accurately described as a network centred on Greenford. Whereas routes E3, E5 and E6 do not serve Ealing at all, only the E8 does not serve Greenford! The E9 is one of several to serve both centres. Following contract renewal in May 2009 it was kitted out with new Enviro200Darts, and in this view DML44119 (YX09 FLL) passes along Ruislip Road, Yeading on Thursday 22 October 2009, nearing journey's end. Rectory Park provides the background.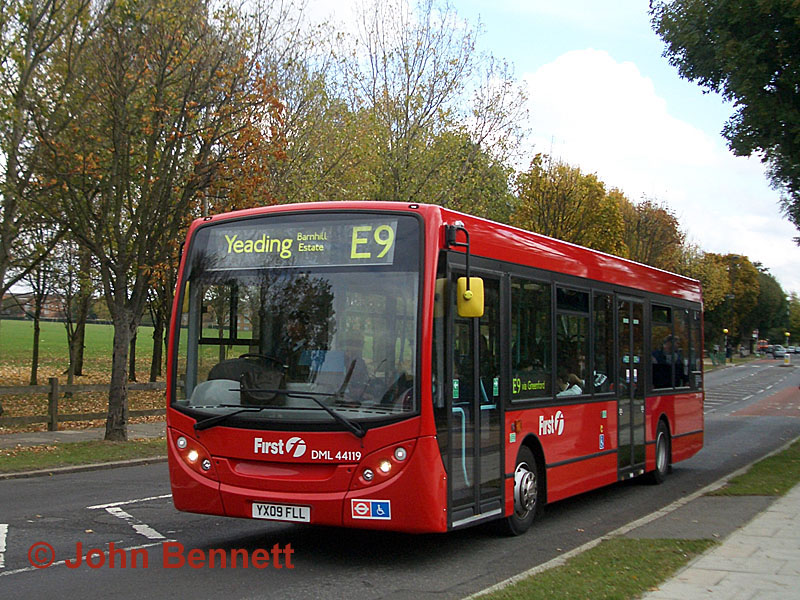 Photo © John Bennett.
The E9 is a relatively straightforward route. From Ealing, buses serve Eaton Rise and Scotch Common, and then run directly along almost the full length of Ruislip Road to Yeading. It is then just a short diversion to serve Barnhill Estate (as the bus companies call it).
Routes E1, E2 and E3 had already been in existence for some years, being a remnant of the old "flat fare" system, but in 1990 the whole area became awash with minibuses in the shape of terribly unsatisfactory Wright Nimbus-bodied Renault S75s. New routes E4-E9 were created, although the E4 subsequently became the H40 (now 440). In its original form the E9 ran from Ealing to Yeading (Ayles Road), with part of the service diverted to Smith's Farm.
The network was retendered in 1997, which thankfully eradicated the dreadful Renaults, and a new route E10 took over the Smith's Farm branch of route E9. The E9 was also extended slightly at the Yeading end, but did not gain a Sunday service unil 2001. Re-tendering again in May 2002 saw the previous 9.4m single door Marshall Capital bodied Darts replaced by similar 10.2m dual door examples, which were cast-offs from route 295. TfL evidently felt these vehicles, dating from 2000, were too old, so replaced them; DML44118 (YX09 FLK) provides a further example of the new order as it rounds Haven Green in Ealing on Thursday 13 August 2009.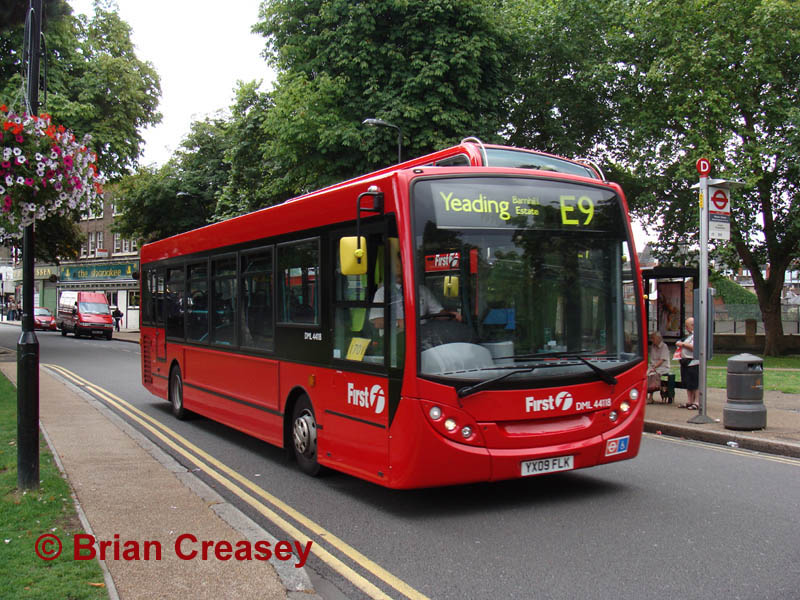 Photo © Brian Creasey.
Navigation
| | | |
| --- | --- | --- |
| | Previous | Next |
| Chronologically | 64 | 8 |
| Numerically | E8 | E10 |
See also routes E10, E1, E2, E3, E5, E6, E7, E8, 440

Photo Gallery | Bus route list | Operational details | Service changes | Operators & Garages