Home | Bus routes | Operational details | Service changes | Operators & Garages | Photo gallery
---
Route U9
2 July 2012
Despite being well within Greater London, responsibility for serving the rural town of Harefield by bus was only in recent times taken on by London Transport. Traditionally the main service was route 348 operated by London Country North West/Luton & District. However, from 1992 an alternative service was added in the shape of irregular service U9, running via the sparsely populated Harvil Road.
In 1995 L&D decided to cut the 348 back to operate only between Garston, Watford and Northwood. This prompted recasting of the rural services north of Uxbridge. The 331 and R1 (now R21) took over various parts of 348 and U1, while U9 was upgraded from its 'occasional' status, though still not having evening or Sunday service. Buses were also altered to double run via Mount Pleasant, to the west of Harefield, en route to Harefield Hospital, restoring a service that had been provided at one time by route 128, precursor to the 331. The U9 was also altered to provide a new local facility in Uxbridge, by running via Harefield Road instead of paralleling the U1 via Park Road and Belmont Road as it had done to begin with.
For some years the route was operated by Arriva The Shires and Essex, first from Garston and then High Wycombe – apparently to allow the staff there to claim TfL travel benefits! This gave it one of the longest garage runs in London, although it is fairly quick along the M40. A new contract began on 3 January 2004, ending minibus operation, and featured a further increase in frequency, the route now operating at an impressive 20 minute frequency. It subsequently gained an hourly Sunday service, though still does not operate in the late evenings.
The route passed to Abellio London from 31 December 2011, operating from the former Wings base in Hayes. Abellio has won a number of routes recently using second hand buses from dealer stock, and the U9 is one; 8115 (KX56 HCZ), which was not even previously on TfL work, was seen at Uxbridge in Harefield Road on the second day, a dreary New Year's Day 2012. It must be one of the last Mini Pointer Darts built, as the model was replaced by the Enviro200Dart in 2006.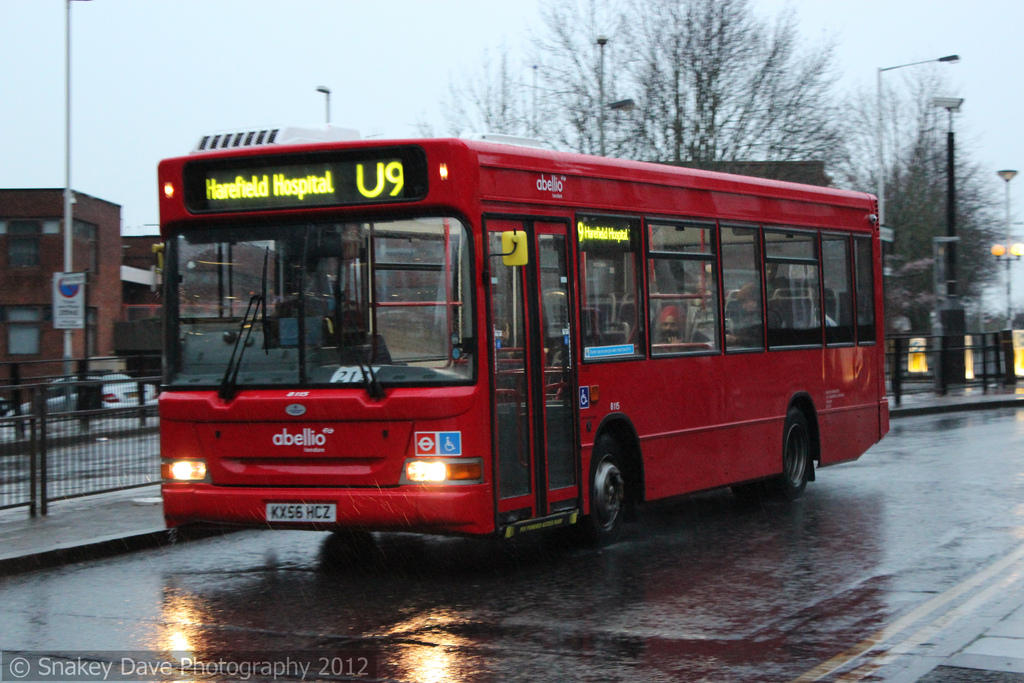 Photo © David McKay.
Navigation
| | | |
| --- | --- | --- |
| | Previous | Next |
| Chronologically | 313 | 117 |
| Numerically | U7 | W3 |
See also routes 331, U1, R21

Photo Gallery | Bus route list | Operational details | Service changes | Operators & Garages